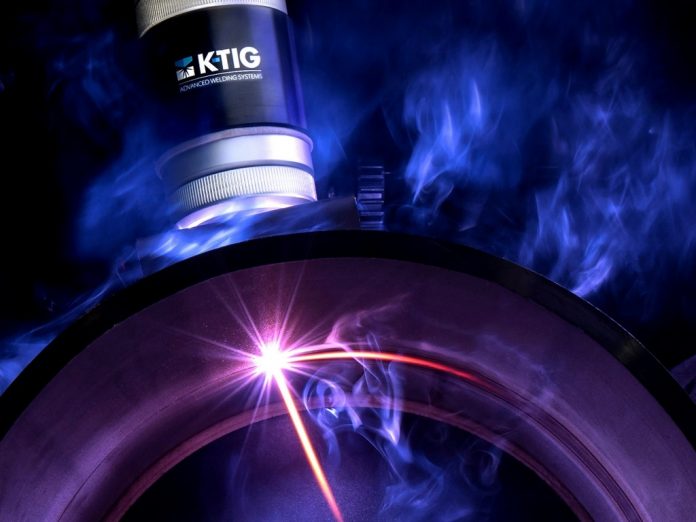 Adelaide-based high-speed welding technology company K-TIG has set its sights on the SE Asia market with the signing of an 8-year licence agreement under its WAAS (Welding-as-a-Service) business model with Steel-Ti Precision Welding (Steel-Ti) based in Singapore.
Steel-Ti is a newly incorporated venture that will supply high value tanks and vessels to the oil & gas, aviation, shipping industries as well as piping for the liquified natural gas industry to the burgeoning South East Asian and Japanese markets.
Steel-Ti will operate a new purpose-built manufacturing facility from January next year. In addition to supplying its technology and support services, K-TIG will also provide extensive support to Steel-Ti in relation to materials handling, cutting and automation equipment that will facilitate exceptional quality, high-volume output from the facility.
Under the terms of the licence agreement, K-TIG's pioneering technology will record and monitor all usage to provide a transparent reporting and billing system for its licensing arrangements.
Furthermore, the technology's cloud feature allows K-TIG to continuously support its customers by storing their welding data, providing updates to software and firmware in the background, and uploading new weld routines that customers may require.
David Williams, CEO of K-TIG said the signing of this agreement demonstrates the Company's ability to deliver on its growth strategy by securing long-term recurring revenue generation under its WaaS licencing model.
"Signing an 8-year agreement with Steel-Ti demonstrates how transformative our technology is for the industry and the market's willingness to adopt the technology," Mr Williams said.
"As I outlined at the recent AGM, this is illustrative of our strategic growth priority of a strong focus on long term recurring revenue generation and growth."
Mr Michael Teo, Managing Director and majority shareholder of Steel-Ti Precision Welding, added:
"Steel-Ti Precision Welding is committed to constructing a state-of-the-art manufacturing facility from the ground up around K-TIG's welding technology," he said.
"We are excited to be the first company in SE Asia to deploy the latest generation of K-TIG's technology and one of the first companies in the world to adopt the Welding-as-a-Service model pioneered by K-TIG.
"The recent announcement of 'K-TIG WaaS' and being able to secure long term access to K-TIG's technology, support and cloud-based services with an infinite capacity to expand in line with our growth expectations made this a straightforward decision."
"We are strategically located in one of the world's highest-growth regions, we have exceptional commercial networks throughout SE Asia and Japan, and plan to leverage this to grow our welding business exponentially."