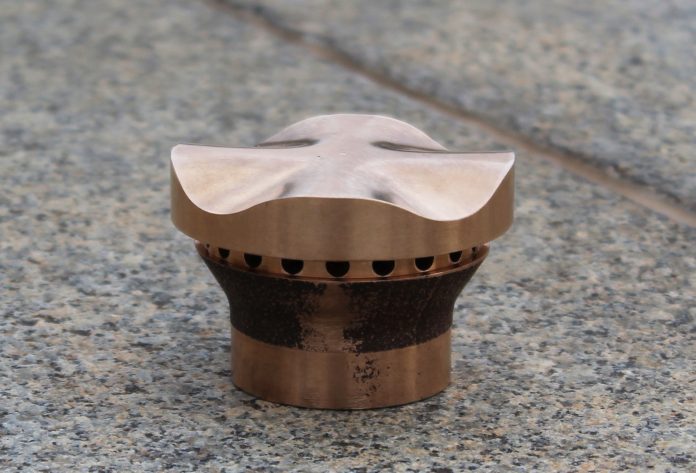 Media Release
A quick response by manufacturing experts has kept the Eternal Flame at Melbourne's Shrine of Remembrance from going out.
The Eternal Flame – an enduring symbol of eternal life – has burned continuously since it was first lit by Her Majesty Queen Elizabeth II in 1954.
But when a recent inspection revealed its burner component had seriously deteriorated, there were concerns it may be extinguishing for the first time in 65 years, if not urgently replaced.
Unfazed by an engineering challenge, RMIT University and local manufacturer DANT Industries joined forces to design and manufacture a replacement that looked exactly like the original, within just 72 hours.
Technical officers at RMIT's Advanced Manufacturing Precinct (AMP), Paul Spithill and Bradley Sherwood, began with drawings from earlier restoration work on the Eternal Flame to create a 3D CAD model of the burner.
From this model, a mould was 3D printed overnight by RMIT, given to DANT Industries the following morning to cast in bronze, then returned to RMIT the same day.
Finally, the bronze parts were machined and finished in line with the vintage burner's original design and appearance.
The new burner was installed at the Shrine during an official event by Multinet Gas Networks on Friday.
During the change-over, the flame was passed into a lantern, then passed back onto the new burner so that it was never extinguished.
The Shrine of Remembrance is the National War Memorial of Victoria, a monument dedicated to all those who have served in the armed conflicts and peacekeeping operations in which Australia has participated.
AMP Technical Director, Professor Milan Brandt, said it was an honour to help preserve such an icon.
"This has been a great project for the team to get involved in considering the significance of the Eternal Flame to Australian families, in particular those whose members have served in armed forces and those who made the ultimate sacrifice," he said.
Shrine CEO Dean Lee thanked all involved for their quick response.
"The Eternal Flame is an enduring metaphor for remembrance of those who have served and sacrificed and we are very grateful to all of the organisations involved in this collaboration," he said.
RMIT's Advanced Manufacturing Precinct hosts collaborative research with more than 40 companies including Ford, Siemens and Boeing, as well as many local SMEs, and hosts dozens of international delegations each year.
Examples of industry-led research at the AMP facility include:
3D printing implants to replace bone removed in cancer surgery, improving chances of saving limbs. Industry partners: St Vincent's Hospital, University of Technology Sydney, Stryker and Innovative Manufacturing CRC.
3D printing steel tools strong enough to handle titanium, saving time and money for aerospace and defence manufacturers working with super hard materials. Industry partners: DMTC and Sutton Tools.
Using 3D printers to repair aircraft and mining machine parts with a bond as strong as the original, avoiding the purchase, storage and shipping of replacement parts. Industry partners: Defence Science & Technology, DMTC, RUAG.
Designing next generation 3D printers to make plastics that withstand high temperatures and pressure for parts in aerospace and automotive industries. Industry partner: Siemens
The $35 million facility, now in its eighth year of operation, is a leading centre for advanced manufacturing research and skills development.
Image Credit: rmit.edu.au