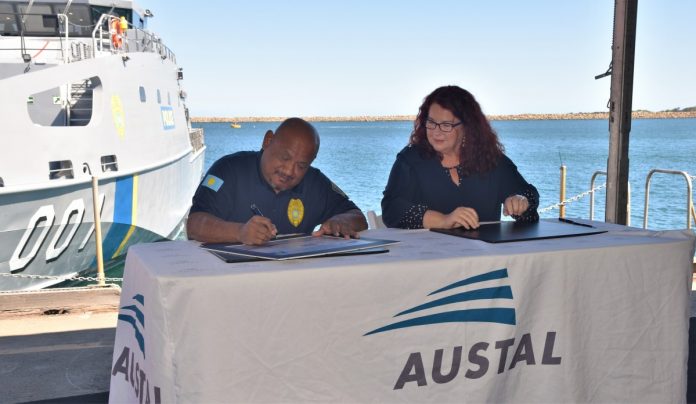 Austal Australia has delivered the seventh Guardian-class patrol boat (GCPB) to the Australian Department of Defence.
Dubbed "President H.I. Remeliik II", the 39.5 metre patrol boat was designed and constructed by Austal Australia as part of the A$335 million Pacific Patrol Boat Replacement (PPB-R) Project which was awarded to Austal in May 2016
The vessel was gifted by the Australian Government to the Government of Palau during a handover ceremony at the company's Henderson shipyard, attended by a limited number of guests due to the COVID-19 restrictions.
"While we are indeed celebrating the delivery of this latest Guardian-class Patrol Boat, we are obviously missing the presence of a number of special guests we would normally have here, from both Palau and Canberra," said Austal Chief Executive David Singleton.
"We are fortunate, however, to be able to hand over this impressive new ship to the very proud and capable Palau crew, who have diligently observed all necessary COVID-19 safe protocols and procedures while completing a comprehensive training program that Austal provides, here in Western Australia.
"We send our warmest regards and congratulations to President Thomas Remengesau Jr, and the people of the Republic of Palau, on the handover of this impressive new ship."
The PPB-R Project involves the construction of 21 vessels that will be handed over to twelve Pacific Island nations over the next three years. These nations include Papua New Guinea, Fiji, the Federated States of Micronesia, Tonga, Solomon Islands, Cook Islands, Kiribati, Marshall Islands, Palau, Samoa, Tuvalu, Vanuatu and Timor Leste.
The Project supports more than 200 direct jobs at Austal Australia and more than 200 indirect jobs nationally, through approximately 450 Australian businesses contracted.
Image credit: https://www.austal.com/