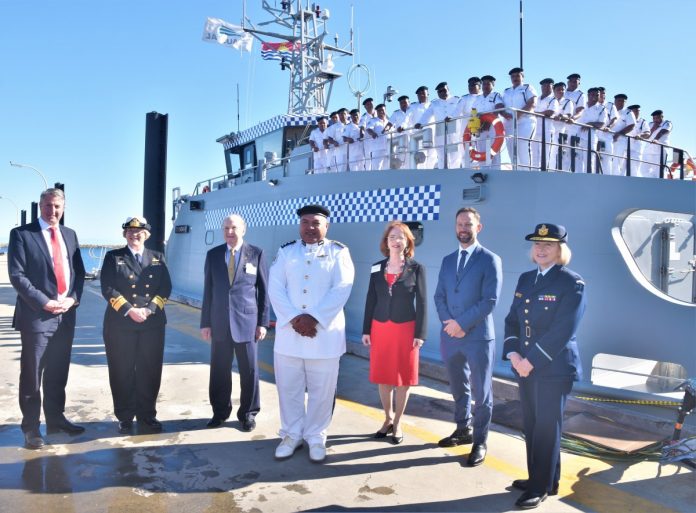 Austal has delivered the eleventh Guardian-class Patrol Boat (GCPB) to the Australian Department of Defence, which subsequently gifted it to the Government of the Republic of Kiribati at a certificate signing ceremony held at the company's Henderson shipyard.
The vessel, the RKS Teanoai II, is the first Guardian-class Patrol Boat to be delivered to Kiribati under the Pacific Patrol Boat Replacement Project (SEA3036-1), valued at more than $335 million.
Designed, constructed and sustained by Austal Australia, RKS Teanoai is a 39.5-metre steel monohull patrol boat based on a proven design platform that has included the 38 metre Bay-class, 56 metre Armidale-class and 58 metre Cape-class patrol boats that are in service with the Australian Border Force and Royal Australian Navy.
Austal CEO Paddy Gregg said the delivery of the vessel – which was originally scheduled for the middle of 2020 – was postponed due to the COVID19 pandemic.
"While the delivery of this particular vessel was postponed, it did not affect, delay or hinder the construction or delivery of subsequent Guardian-class Patrol Boats and we remain on track to deliver all 21 vessels by the end of 2023," he continued.
"The Austal Australia and SEA3036-1 Project teams have worked together successfully to maintain productivity and meet the objectives of the Pacific Patrol Boat Replacement Project, throughout the COVID19 pandemic."
Image credit: https://www.austal.com/