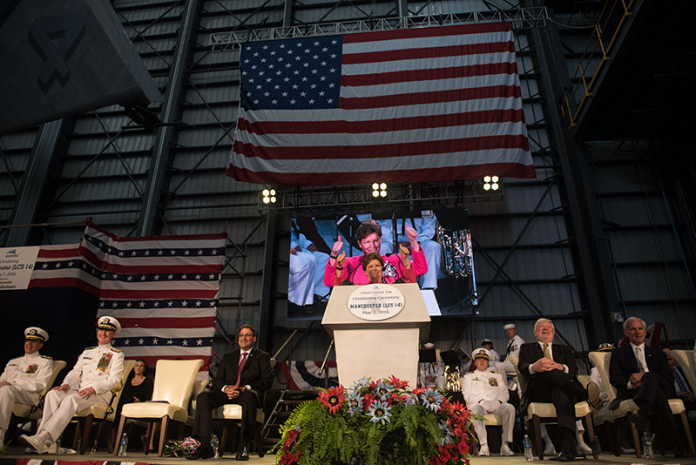 Global defence contractor Austal has celebrated the christening of US Navy's 14th littoral combat ship (LCS) – the future USS Manchester – at an official ceremony attended by ship sponsor US Senator Jeanne Shaheen and a number of distinguished guests.
Manchester (LCS 14) is the fifth LCS in Austal's 11-ship contract valued at approximately $3.5 billion. With its shallow draft of 14 feet, the Austal-built Independence-variant LCS is an advanced high-speed and agile 419-foot aluminium trimaran combat ship that combines superior seakeeping, endurance and speed with the volume and payload capacity needed to support emerging missions.
"On behalf of Austal USA's shipbuilding team, one of the most talented that I've ever worked with, we are proud to provide our sailors with an amazing warship that will honour the great city of Manchester as she defends our nation," said Austal USA President Craig Perciavalle.
"We're equally excited to share this celebration with an amazing patriot in Senator Shaheen who has served in her role as both Governor and Senator, and now gives her spirit as the sponsor to this awesome ship."
Scheduled for launch in mid-May, the future USS Manchester (LCS 14) has a maximum speed of more than 40 knots, a voluminous 28,000 sf mission bay, and a flight deck capable of simultaneously holding two H-60 helicopters.
To date, Austal has delivered three ships from its LCS program, with seven other ships currently under construction.
According to the company, Montgomery (LCS 8) conducted acceptance trials late last week, whereas Gabrielle Giffords (LCS 10) and Omaha (LCS 12) are preparing for trials. Austal said final assembly is well underway on Tulsa (LCS 16) and modules for Charleston (LCS 18) and Cincinnati (LCS 20) are under construction in the company's Module Manufacturing Facility.
Austal has also been awarded a $1.6 billion block-buy contract by the US Navy to build 10 Expeditionary Fast Transports (EPF), six of which have already been delivered.