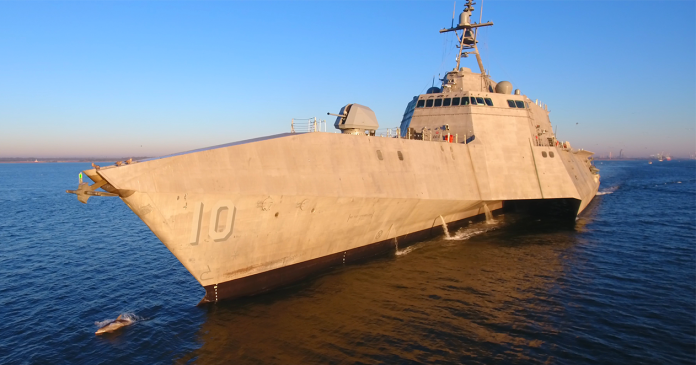 Austal has won a A$779 million deal to construct the Independence Class Littoral Combat Ship (LCS 28) for the United States Navy.
Austal has thus far won approximately A$8 billion worth of contracts for Independence-class LCS's, which equates to approximately 75% of the projected value of the entire Australian Government frigate construction program.
According to the company, the LCS28 will be the 14th LCS constructed at its US shipyard in Mobile, Alabama, with certain subsystems to be made at the Henderson facility in WA.
Commenting on the latest order, Austal CEO David Singleton said it represents 'a continuing vote of confidence' in Australia's design and ship building capability for large naval vessels.
"While I am obviously happy for Austal I am also delighted in the vote of confidence this delivers for Australian shipbuilding and design," Mr Singleton said.
"We won this award following a direct competition with the Freedom Class LCS which says much for our cost efficiency on this program. Austal's work on the LCS program at our advanced Module Manufacturing Facility (MMF) has seen efficiency gains of 20 per cent with an ambitious target of 35 per cent set for the end of the build cycle."
According to him, Austal intends to introduce many of the advanced manufacturing techniques and efficiency gains perfected in the US into its local operations should it wins the $3 billion Offshore Patrol Vessel contract for the Royal Australian Navy.
"I look forward to working with the Australian Government in the future to help them realise their goal of truly sovereign and export capable naval shipbuilding industry," Mr Singleton concluded.
Austal – which expects the US Navy to order up to two more LCS vessels in the current US financial year – also noted that its LCS delivery schedule remains on track and under the US Governments congressional cost cap.
"The fifth Austal-built LCS entered the fleet last weekend with the commissioning of the USS Gabrielle Giffords (LCS 10) while an additional seven LCS vessels are under various phases of construction," the company said in a statement.