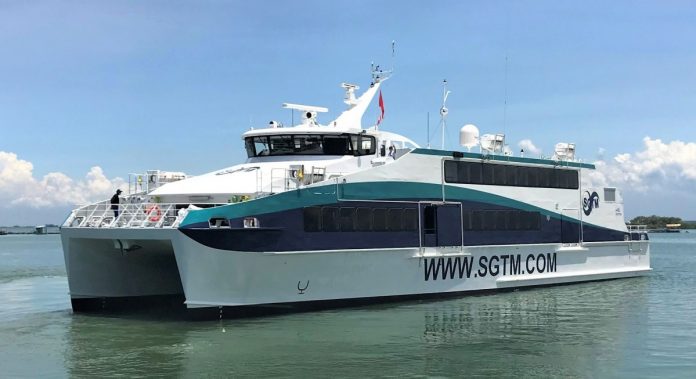 Shipbuilding firm Austal announced that its Austal Vietnam arm has delivered Hull 424, the Maria Galanta Express, to Oceanoi Limited of Mauritius.
The 41 metre high-speed catamaran ferry, which will be operated by Société de Gestion et de Transport Maritime (SGTM) in the Comoros Islands, was built at Austal's Vietnam shipyard in Vung Tau under a $15.5 million contract announced in January 2020.
Austal CEO Paddy Gregg described the delivery of the vessel as 'a significant milestone' in the company's newest shipyard.
"This new ship for SGTM, is the second vessel we have delivered out of the Vietnam shipyard and highlights the tremendous productivity and efficiency of the local team, who have effectively delivered two vessels in two years," Mr Gregg said.
"It's also very pleasing to see another customised variant of our popular, high-speed catamaran ferry design being delivered to yet another new customer, and I offer my warmest congratulations to SGTM Director, Michel Labourdere, on the delivery of his latest addition to their fleet.
"Austal has now delivered over 80 vessels in this key, 40 to 50 metre catamaran ferry market since the early 1990s and we continue to receive great interest in our proven designs."
Image credit: https://www.austal.com