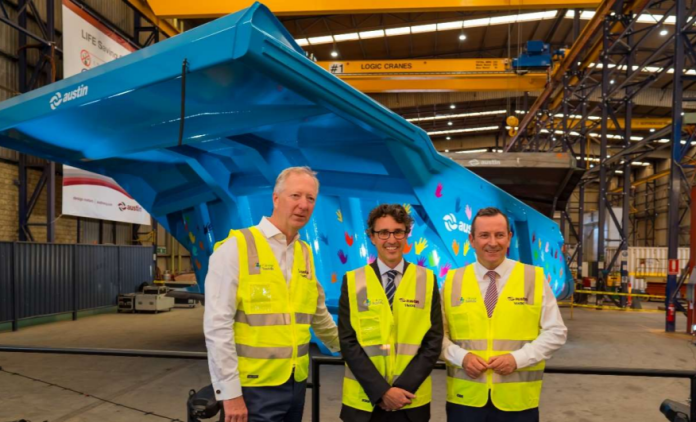 Global mining equipment designer and manufacturer, Austin Engineering, has announced the signing of a five-year mining products and service supply contract with Rio Tinto.
Austin said the contract is for the supply of dump bodies, lightweight trays for ore trucks, heavy machinery buckets, water bodies and other fabricated products.
According to the company's statement, it also covers the provision of 'Off Site Repairs' and other associated services for both Austin supplied equipment and for other OEM's supplied heavy machinery.
Austin has been supplying Rio Tinto Iron Ore (RTIO) operations with its heavy machinery consumable equipment, offsite repairs and other equipment for 33 years.
The company delivered its first bucket to Rio Tinto over two decades ago, and its first truck body 14 years ago.
Last week the two companies held a ceremony in Perth to mark the manufacture of Austin's 1000th truck body for RTIO. The ceremony was attended by the Premier of Western Australia, Mark McGowan, and the CEO of RTIO, Simon Trott.
Austin CEO and Managing Director, David Singleton, said the company estimates that the value of services under the contract over its life could be around A$300 million.
"This contract extends our very successful and productive involvement with Rio Tinto for another five years," Mr Singleton said.
"Rio Tinto is a key customer for Austin's products and services, and I would like to thank the company for its support in helping to build a strong local manufacturing industry in Australia, and a leading business in this industry globally."
He said Rio Tinto's commitment provided the company with the confidence to invest in developing its Austin 2.0, strategy.
"As part of this, we recently announced a $6.5m investment in advanced manufacturing at our facilities initially in Western Australia and Indonesia that will bring new levels of quality, production capacity and flexibility," Mr Singleton continued.
"In addition, our Innovation and Technology Hub in Western Australia is focused on meeting the safety, mine site efficiency and decarbonisation goals of Rio Tinto and other customers in Australia and around the world.
"Shareholders will appreciate the importance of this contract. It provides strong, long-term support for our business through the mining cycles from one of the world's leading miners, assisted by our close proximity to Rio Tinto operations, and longstanding engagement between the two companies."
Image credit: https://cloud.weblink.com.au/headline/?headlineid=gRiF65fR0wX61ta9F0OxW0n/6tiJFLVFb5Lt/6+b+38=