Japan and Australia agreed on Wednesday to intensify security ties established in 2007 and collaborate on developing stealth submarine technology, as Canberra looks to gain access to Japanese stealth technology for use in the new conventional submarines it plans to build.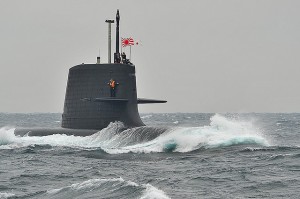 According to the article on Seattle Pi, the nations' foreign and defence ministers met in Tokyo on Wednesday where they discussed the possibility of developing faster submarines with reduced water resistance and quieter propeller, and agreed to begin research on technology that is applicable to any vessel — including submarines.
Japan's Defence Minister Itsunori Onodera said the research and possible technology transfer would not violate the country's pacifist constitution, as Tokyo moved in April to ease five-decade-old weapons export rules as part of Japanese Prime Minister Shinzo Abe's plan to bolster Japan's defence and open the door to supplying military technology overseas.
Australian Defence Minister David Johnston, who was granted a rare tour of Japan's new Soryu class submarines at Yokosuka Naval Base, said he expected the countries to agree further cooperation measures this week.
"My visit here was an addition to the productive discussions on deepening practical defence cooperation between Australia and Japan," Mr Johnston said after being granted access to the Soryu.
According to the article on The Wall Street Journal, Australia wants its new submarine fleet to be larger and with more range than the 3400-tonne Collins-class subs in order to protect shipping routes through disputed waters in Asia, where China has a significant military presence.
The new submarines are to be equipped with submarine-launched cruise missiles for land attack and capable of deploying special-forces soldiers. It is said that the new fleet will consist of up to 12 submarines and will cost Australian taxpayers around US$33 billion.
Australia is still considering its options and is also in talks with Germany and France about a A$40 billion (US$37 billion) plan to replace its Collins-class submarines.