After being locked in negotiations for almost ten years, Australia and China have finally signed a Free Trade Agreement (FTA).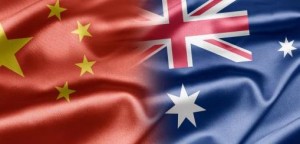 "This agreement is the first that China has concluded with a substantial economy – with a major economy – and it's the most comprehensive agreement that China has concluded with anyone. It opens the doors to Australia and it opens the doors to China. It's a reflection on both our countries' ability to be reliable partners and, obviously, what this agreement means is more jobs. Already, two-way trade between Australia and China stands at $150 billion a year. China is our largest goods export destination at $95 billion in 2013. China is Australia's largest services market at $7 billion in 2013," it says in the joint statement by Prime Minister Tony Abbot and China's President Xi.
Under the FTA, 85% of Australian exports will enter China tariff-free.
Trade barriers for agriculture, resources and energy, manufacturing exports and investment will be removed. All tariffs on horticulture will be eliminated.
Tariffs will be abolished for the $13 billion dairy industry and beef and sheep farmers will benefit from the abolition of tariffs ranging from 12 to 25 per cent.
China will allow greater access for legal, financial, telecommunications, tourism, construction, health, aged care, mining and manufacturing services.
Some say the deal will boost the economy and create jobs; others are confident that it will hurt Australian manufacturing.
According to the Australian, Unions fear the Chinese agreement will replicate provisions of the Korean deal, "allowing Chinese contractors on Australian projects to nominate Chinese workers for visas without having to advertise jobs locally."
Unions from the manufacturing, resources, construction, services and transport industries have written to major parties and crossbenchers to demand strong protections for Australian workers.
The letter has been signed by representatives from the Australian Council of Trade Unions, Australian Manufacturing Workers Union, Construction Forestry Mining and Energy Union, National Union of Workers, Australian Workers Union, Textile Clothing and Footwear Union of Australia, United Voice, Transport Workers Union and the Rail Tram and Bus Union.
"There is a major risk that this agreement will devastate the Australian economy and Australia's quality of life. We are concerned that the content of this agreement will accelerate the hollowing out of Australia's manufacturing capacity, by way of contrast with the relatively economically simple and low employment industries of agriculture and mining, putting the advanced status of our economy in jeopardy," the union leaders say in the letter.
The landmark China-Australia Free Trade Agreement (ChAFTA)  is worth an estimated $18 billion over a decade, but that is from modelling done 10 years ago and does not include benefits to the services sector, reports the Daily Mail.