Manufacturing Excellence Taskforce Australia (META), a collaborative network of engaged manufacturing businesses and researchers, together with PrefabAUS, a non-profit organisation representing key businesses in the design, manufacture and construction of prefabricated buildings and building modules, will determine how Australia can transform its construction industry to a smarter, leaner manufacturing mind-set through the launch of META's PrefabAUS Hub.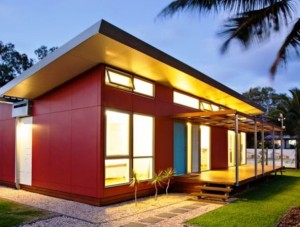 Prefabricated housing is manufactured off-site in advance, usually in simple sections that can easily be shipped and transported. The Australian construction industry creates more than a $150 billion contribution to GDP (10%) of which the prefabricated housing sector is just $4.6 billion (3%).
Mr Zoran Angelkovski, Managing Director of META, says the Hub will be aiming to provide Australian building firms with a chance to dip into the prefabricated housing market which is expected to grow at more than 5% per annum compared to the overall industry at 2.3% through to 2023.
"A primary objective of the Hub is to identify how our local construction industry can transform and compete against imported products in terms of quality, value and speed," Mr Angelkovski said.
"The Hub participants will grow prefabricated housing through development of new architectural design thinking, innovative techniques and processes and work towards advanced manufacturing within the field."
Sarah Backhouse, CEO of prefabAUS, architect and Melbourne University researcher, says there is a strong potential for Australia to develop a new manufacturing base centred on 21st century construction innovation and quality.
"In Japan and across Europe, prefabricated housing is widely accepted as a quality alternative to traditional construction due to its speed of delivery, design options and energy efficient choices. This represents exciting opportunities for Australia to innovate as our prefabricated housing industry continues to grow and span not only individual houses but also medium and high density solutions while ensuring we remain globally competitive," Ms Backhouse said.
Jan Gyrn, from leading Australian prefabrication developer Modscape, says there is huge potential for local manufacturers to adapt to this growth market while providing consumers with innovative designs and choice.
"Over the last decade, we have seen prefabricated housing transition from a temporary building idea to a sophisticated, design-led alternative to traditional construction," Mr Gyrn said.
"We have worked on exciting commercial and residential projects which are a far cry from the days of aesthetically boring prefab units and will challenge people's conceptions of modular buildings. Today we can leverage the latest technology and manufacturing methods to deliver projects such as Ponyfish Island Bar in Melbourne, which shows innovation and artistic style within a logistically complex location. By using a modular base we can create almost any configuration of space at any size to suit individual styles, all the while delivering projects at less cost with minimal disturbance to the surrounding environment."
The official launch of META's PrefabAUS Hub is scheduled to take place at the inaugural Melbourne prefabAUS Conference on Tuesday, 12 August 2014, at 1.00pm.