Demand for Australian Made products is on the rise, according to a Roy Morgan research conducted in 2013, so it comes as no surprise that Australia's iconic Australian Made has partnered up with one of the country's largest retailers of bedding and bedroom furniture Snooze to promote and drive sales of locally made bedding and bedroom furniture products.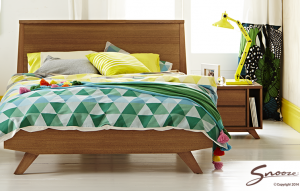 Snooze has been around for over 30 years and has more than 70 franchises all over Australia.
The announcement was made yesterday by the Campaign's Chief Executive, Ian Harrison who expressed his hope that the new partnership would help to get more genuine Aussie products into the hands of consumers.
"We are thrilled to be working with the team at Snooze to promote the exceptional products our local manufacturers have to offer. Businesses in the Australian bedding and bedroom furniture industries have produced some of the most innovative products in the market, and we are excited about increasing awareness of those products on a national level," said Australian Made Campaign's Chief Executive, Ian Harrison.
"Most of our stores are franchises that operate as family-run businesses with strong connections to the local community, so culturally, we also see supporting local industry and local jobs via a partnership with the Australian Made Campaign as a good fit," Snooze Managing Director Simon Beaty said.
For more information about Snooze, please visit www.snooze.com.au