The Australian Made Campaign has announced that the Australian Made, Australian Grown (AMAG) logo has been formally trademarked in South Korea, marking a major breakthrough for Australian exporters who now have a symbol to use on their locally made or grown exports into the Asian country.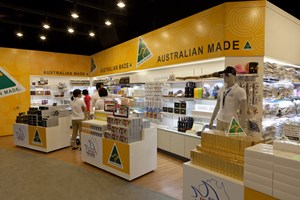 With this development Australian exporters' products will be recognized as genuinely Australian and will be legally protected under South Korean law.
Australian Made Chief Executive Ian Harrison shared that the registration process began in 2011 in response to the growing importance of South Korea as a destination for Australian products.
"The Australian Made, Australian Grown logo's formal registration in South Korea now provides an essential legal framework which exporters can rely upon in the event that the logo – or product carrying it – is copied or used without proper authority," Mr. Harrison said in a statement.
"It will also provide a legal framework for the Australian Made branded shops established in South Korea by Campaign Partner, SINI Australia."
Australian Made Campaign partner EKM Patent and Trade Marks carried out the registration work which successfully covered 11 classes of goods and services (classes 3, 5, 20, 25, 29-33, 35 and 41).
These classes include food and beverages (meat, game, grains, coffee, alcoholic beverages, etc), laundry products, medical and veterinary products, furniture, clothing, footwear, and headgear, among others.
Further information on the classes of goods can be found here.
The green-and-gold AMAG logo is the only registered certification trade mark for Australian country-of-origin claims. Spotting the logo is the surest way for consumers to know that what they are buying are genuinely Australian products. The logo is administered by Australian Made Campaign Limited, which oversees the licensing of companies to use the logo and promote Australian products in the domestic markets and abroad.
The Federal Government transferred ownership of the logo to AMCL back in 2002, via a Deed of Assignment and Management, which lays down conditions under which AMCL may administer the logo. The logo may only be used on products that are registered with AMCL, and products must meet the criteria set out in the Australian Consumer Law and the Australian Made, Australian Grown Logo Code of Practice.
The formal registration of the AMAG logo in South Korea follows its registration in the USA and China, with another registration pending in Singapore.