American aerospace and defence company Northrop Grumman has delivered the centre fuselage for Australia's first F-35 Lightning II aircraft to Lockheed Martin on September 23. The fuselage is the first of 100 that will be manufactured in Palmdale, California for the Royal Australian Air Force, according to the media release.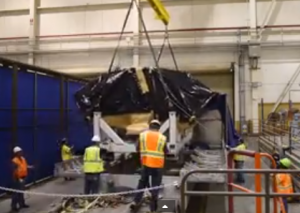 "This center fuselage will be incorporated into the first F-35 for the Royal Australian Air Force and will be delivered in 2014 for pilot training," said Brian Chappel, vice president of the F-35 program for Northrop Grumman Aerospace Systems sector.
"The first Australian center fuselage was inducted into our Integrated Assembly Line (IAL) at Palmdale last October and now we've delivered it, marking yet another milestone achievement for the F-35 program."
Northrop Grumman's IAL maximises robotics and automation, and is central to producing the F-35's centre fuselage as well as increasing the program's affordability, quality and efficiency. According to the company there are currently 35 centre fuselages in flow on the IAL, including another one for Australia.
As one of the principal members of the Lockheed Martin-led team, Northrop Grumman performs a significant share of work required to develop and produce the F-35 aircrafts. Aside from the centre fuselage the company also designs and produces the aircraft's radar and other key avionics including electro-optical, communications, navigation and identification subsystems.
The international F-35 Lightning II Joint Strike Fighter (JSF) program is the largest military aerospace program in the world, valued in excess of US$300 billion worldwide. In late September the Pentagon and Lockheed Martin finalised the two contracts valued at at $7.8 billion for 71 more F-35 fighter jets.
According to Reuters, Lockheed is building three variants of the F-35 for the U.S. military and eight countries that helped fund its development: Britain, Canada, Australia, Turkey, Italy, Norway, Denmark, and the Netherlands. Israel and Japan reportedly also placed orders for the jets.
The Australian Government joined the F-35 program in 2002 and recently reaffirmed its commitment to the program by announcing its intention to operate three squadrons of F-35s beginning in 2020. Australian company Quickstep Technologies is one of the manufacturers that supply parts to Northrop Grumman.