Australian manufacturing recorded an expansion in October as the latest Performance of Manufacturing Index (PMI) from the Australian Industry (AI) Group showed a reading of 53.2, an improvement of 1.5 points. The latest index is a step up from AI Group's September data and is also the second consecutive month of growth.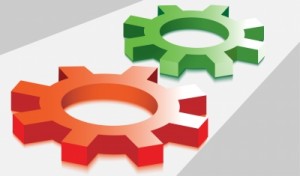 According to a news release from the AI Group, the manufacturing industry's good performance was largely driven by improvements in new orders (55.7), production (54.5) and deliveries (54.4). The food, beverages and tobacco subsector continues to lead the pack, recording 65.6 in three monthly moving average terms. Readings above 50 indicate an expansion in activity.
The petroleum, coal, chemicals and rubber products sub-sector index weakened to 52.4 points in October, but has remained at or above 50 points for a third consecutive month of expansion.
AI Group's Chief Executive Innes Willox says there are definitely "encouraging signs" but it is too early to call it a recovery for the industry.
"October saw the manufacturing sector build on the modest gains recorded in September.  Production expanded for the first time in two and a half years and new orders continued to recover. While there are certainly encouraging signs, it is too early to call a recovery with a good share of the gains representing a catch-up following a very slow mid-year period," said Mr. Willox.
Despite the good news in other sub-indices, exports remain very low at 34.1 points although it showed some improvement, while employment continues to contract at 48.6 points.
The metal products and machinery & equipment sub-sectors continue to show contraction in the month of October, recording 37.7 and 41.9 points respectively. Meanwhile, the textile, clothing, & footwear subsector, as well as furniture and other manufacturing subsectors have also been contracting since September last year, recording 38.0 points for October.
"The fundamentals facing the sector remain very tough with the domestic currency still a major barrier to export growth and an impediment to businesses seeking to win back market share from imports.  In addition, manufacturers' margins remain under pressure as wage and non-wage costs continue to rise ahead of selling prices," said Mr. Willox.
Download the full October Australian PMI here.