DSM Pharmaceutical Products and Opthea Pty Ltd of Melbourne, Australia have signed an agreement that covers the process development and cGMP manufacture of the latter's lead product for eye disease.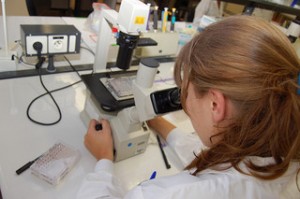 According to PR Newswire, DSM will begin production of Opthea's lead molecule, which is a soluble form of human VEGFR-3 that blocks the activity of both VEGF-C and VEGF-D which promote the formation of blood and lymphatic vessels and play an active role in eye-disease progression.
The joint project is an agreement to kick start process development at DSM Biologics' Groningen, The Netherlands, facility and manufacture at the cGMP facility in Brisbane, Australia.
Royal DSM is a global science-based company specializing in health, nutrition and materials. The company offers innovative solutions for nourishment, protection and improvement of global markets such as food and dietary supplements, personal care, and medical devices, among others.
"We are honored to be working with an innovative company such as Opthea, and apply our expertise to help them bring this novel biologic treatment to patients in need. We look forward to working together with our partner on this exciting project and support them in their further development of this important drug," said Manja Bouman, President of DSM Biologics.
DSM Biologics is a business unit of DSM Pharmaceutical Products, which specializes in optimizing mammalian-based biopharmaceutical manufacturing through a unique set of technologies and expertise.
Opthea Pty Ltd is a subsidiary of Circadian Technologies Limited based in Melbourne, Australia. Opthea's lead compound, OPT-302, is a soluble receptor that specifically and potently blocks the activity of two members of the vascular endothelial growth factor family, namely VEGF-C and VEGF-D that are involved in the progression of both retinal and corneal diseases. OPT-302 is intended for treatment of "wet" neo-vascular age-related macular degeneration (wet AMD).
The disease is characterized by loss of vision in the middle of the visual field caused by retinal degeneration.
"We are pleased to announce our manufacturing agreement with DSM and to have the opportunity to work with their highly experienced and internationally recognized team.  Opthea is excited to be able to progress our manufacturing program in a new state-of the-art facility within Australia and looks forward to further building on our strong relationship with DSM," said Dr. Megan Baldwin, CEO of Opthea.
Queensland Minister for Science and Innovation, Ian Walker welcomed the new agreement, saying that these types of partnerships shall be crucial for the development of the industry in Queensland.
"This is good news for Queensland and the deal is evidence of the growing reputation at a national and international level of the DSM facility with its experienced team, state-of-the-art equipment, its excellent manufacturing capability and its value for money proposition," added Mr. Walker.
No information regarding the financial terms of the agreement was released.