The Chairman of the Australian Advanced Manufacturing Council (AAMC), Mr John Pollaers, has welcomed the Performance of Manufacturing Index, which showed the first expansion in Australian manufacturing activity in six months, stating that one of the best ways to raise the country's industry capabilities to among the best in the world is through "flagship" or nation-building projects like the submarine and ship building programmes.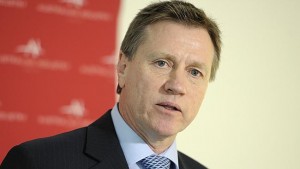 Mr Pollaers recently led a business delegation to Germany, hosted by industrial giant Siemens, where he visited the world's largest industrial fair, Hannover Messe.
According to him, the German Industrie 4.0 initiative, or the fourth industrial revolution, which has given Germany's manufacturing sector a complete and very successful makeover, is well underway and with it Germany has set the industrial benchmark for advanced manufacturing.
"Between now and 2020, German industry will invest EUR40 billion annually in Industry 4.0 applications. Industrial firms will invest, on average, 3.3% of their revenues in digitalisation solutions over the next five years. This corresponds to nearly 50% of all planned capital investments. The recent McKinsey report showing that Japanese advanced manufacturing labour productivity is in fact 32% below that of Germany reinforces the need for the Government to consider all tenders in an open and transparent way," Mr Pollaers said.
"Flagship projects have the ability to help connect large, medium and small businesses together and help facilitate knowledge transfer and the adoption of new technologies. I can't think of better or bigger flagships than Australia's future submarine and ship building programs. The future is a highly interconnected world so we can't afford to look at things in isolation or we will miss opportunities. The decision on who should build Australia's next generation submarines has far greater implications than many appear to realise."
Mr Pollaers added that Australia can only benefit from a transparent, carefully considered evaluation process.
"For the advancement of Australian industry, we must ensure that Australian companies are connected into the high value technology creation and development in order to build our local expertise," he said.
"It's fascinating that when Germany talks about productivity through automation and digitalisation, they're not talking about cutting jobs. On the contrary they're talking about being more competitive and producing more from the same – truly sustainable business. The role of technology is crucial in this equation but it also requires a shift in mindset for Australia. Clearly Germany has invested in developing the latest technologies and in building strong relationships and collaboration between the government, industry, unions and universities."
Australia's manufacturing industry employs around 8% of the national workforce, or just under a million people, and generates 6.5 per cent of Australia's GDP.
Mr Pollaers was recently appointed Chair of the Federal Government's new Australian Industry and Skills Committee to put industry in charge of Australia's vocational education and training (VET) sector.