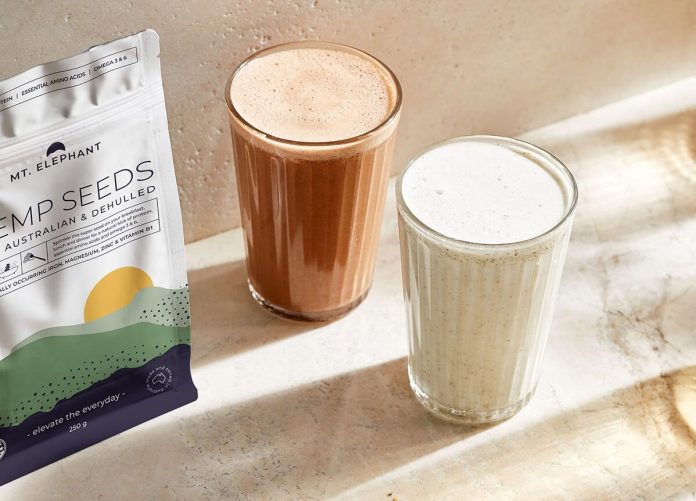 Plant-based health and wellness products manufacturer and distributor Australian Primary Hemp Ltd (ASX:APH) announced today that it has a secured a second retail distribution agreement with Australian supermarket chain Woolworths Group Limited. 
With the agreement, APH will see its Mt. Elephant 'mylk' branded hemp and oat milk products distributed across 165 premium Woolworth stores throughout Australia starting April 2021.
Considered to be an "ideal complement to coffee", Mylk infuses the "nutty flavour" of hemp with the oat component's consistency.
According to AHP, the milk product contains highly-digestible plant-based protein, a complete essential amino acid profile, vitamins and minerals, and is 100% vegan.
Commenting on the distribution agreement with Woolworths, APH Managing Director and Chief Executive Officer Neale Joseph stated: "This second agreement with Woolworths will expand the range of Mt. Elephant products being ranged in Woolworths stores and increase consumers' choices for high-quality, plant-based 'superfoods'.
"This just the beginning for our mylk products, and positions APH strongly to open further doors to develop even more products as demand for plant-based milks grow," Joseph added.
The second agreement comes after APH's first distribution agreement for Mt. Elephant baking products announced in January 2021.
In November 2020, APH secured a retail distribution agreement with 7-Eleven Australia Ltd for Mt. Elephant hemp seed-and-nut snack bars.
"Our Mt. Elephant product range continues to gather momentum, and APH continues to make significant progress in meeting the Company's commercialisation distribution goals with this brand."
A report by Global Market Insights predicts that the global plant-based milk market will be worth AUD $28.0 billion by 2026, with growth driven by dairy-free milk alternatives besides soy and almond milk.