Canberra-based Hardcotton has unveiled its Elemental SLA 3D printer that features a "world-first" pressure system that controls resin levels during printing.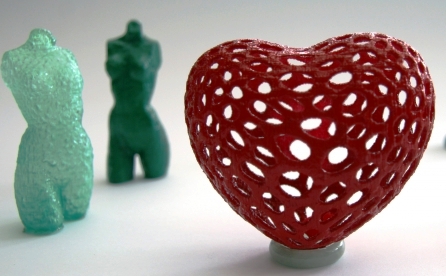 When working with a typical SLA 3D printer, a laser cures a resin as the print bed moves up and down a Z-axis, with a substantial amount of support material needed to ensure the cured resin does not collapse upon itself.
Elemental is the only 3D printer capable of operating by way of resin suspension (resin floating on top of a support material such as saline) or by utilising any resin with broad range of viscosity.
With Hardcotton's new innovative pressure controlled SLA 3D printer, there is no need to move the object within the resin, as the Elemental moves the resin via a patent pending pressure control system around the printed object.
"When you use Elemental you aren't faced with a daunting set up and you don't need to worry about fiddly calibration procedures. All you need to do in setting up Elemental is to ensure that the printer is level, with its adjustable feet, then simply fill it up with printing material and it's ready to go," said Scott Pobihun, Co-founder and CEO of Hardcotton, in a blog post.
"Elemental makes 3D printing simple, easy and affordable. Unlike other printers on the market, Elemental does not require complex set-up, assembly or calibration. Its modular design addresses cost concerns, usually a concern with SLA printers, as well as ensuring performance reliability with whisper quiet operation."
Hardcotton will launch Elemental through Kickstarter in Q3 of 2014 and will offer units to Kickstarter backers for under AUD$1000.
"It really is amazing seeing something 3D printed. It is even more amazing when the print is done quickly, quietly and simply. Utilising pressure control, Hardcotton has developed a 3D printer that employs SLA technology but creates the 3D print without the use of a mechanical platform," said Pobihun.
"This is a massive step forward for 3D printing. Because there are very few complex parts to be assembled in Elemental, we see this architecture as being the basis for the mass manufacture of 3D printers very soon."