Simon Hackett, founder of Internode, and Rudi Tuisk, former Director of Tesla Australia and global motorsport protagonist, have joined forces to develop a high-performance electric-powered race car.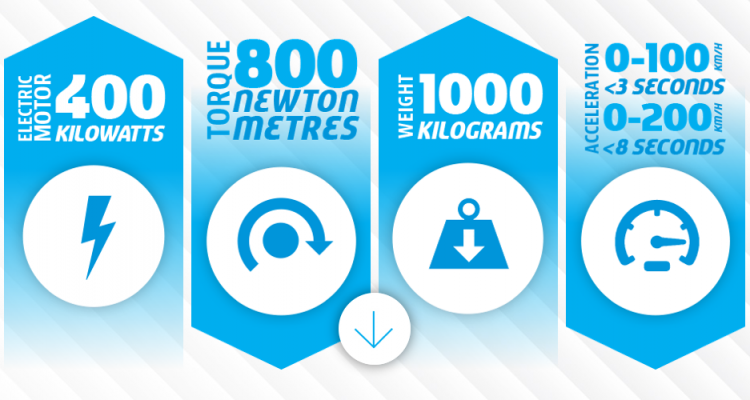 According to the press release by eV Race Systems, Tuisk is the architect and technical designer of the new class of electric car racing, while Hackett is responsible for the seven-figure funding that is set to kick-start the project.
"Electric vehicles represent a sunrise industry in which Australia can be a real leader," said Hackett.
"Australia has convenient proximity to Asia for cell supply and access to innovative and exceptionally talented engineers. As we're saying goodbye to Toyota, Ford and Holden assembly plants, Australia has the opportunity to embrace and invest in EV (Electric Vehicle) technology that can underpin new local manufacturing in coming decades."
Tuisk established eV Race Systems, a start-up company that will be spearheading the project of developing a purpose-designed electric race car that will be powerful enough to perform at the highest levels of global motorsport.
No preliminary design has been revealed, but the creators say that the 1000kg eV Race Systems car with 400 KW and 800 Nm Torque will accelerate from a standing start to 200km/h in less than eight seconds.
"At Tesla, we pushed the boundaries of EV technology in many environments and race circuits. At eV Race Systems, we're out to develop and deliver the most exciting race car to drive and the most exciting race car to watch," said Tuisk.
"To use motorsport as an emotional lever, you need a car that's very fast, convincing and extremely exciting; action packed! We've spent the past year designing just such a vehicle, with some of the best engineers in the world. We are very exciting by the data we are seeing right now."
eV Race Systems plans to develop three to five prototype cars that will be used to conduct demonstrations at racing events later this year.
Tuisk claims that electric race cars will drive some strong growth businesses during the next decade.
"We should expect to see significant multiples of value in this space." he said.
"We look forward to releasing more information as it become as available."