Welcome to the Feature Series for Australian Manufacturing, where each month we'll shine the focus on one particular Australian manufacturer and breakdown what really gives them the competitive advantage, in an otherwise difficult sector.
This month we're focusing on ATE Tankers, a specialist designer and manufacturer of Road Tanker solutions for clients within the transportation and petroleum industries that has been awarded the "Australian Made" certification for its road tankers.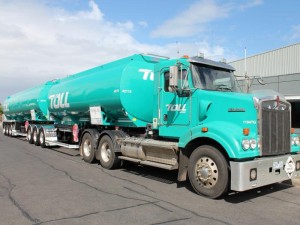 "ATE Tankers is the only certified Australian Made road tanker manufacturer in the world. Automation has enabled us to deliver a genuine Australian made product whilst comfortably competing on price with all our competitors," says ATE Tanker CEO Dan Mejak.
The company constructs high quality, customised Road Tanker solutions, and are experts in petroleum road tankers, dispensing systems one-offs and multiple builds. We are kicking off the feature series dedicated to ATE Tankers with a closer look at how the company employs automation.
Automation provides ergonomic, safety, and innovation advantages. Introducing new machinery to the workshop floor often lowers the occupational safety risk for the person performing the job.
Automation expedites production workflow – and now customers expect faster and faster delivery times. As the entire manufacturing process is delivered under one roof, the pressure to deliver tankers quickly is a key challenge.
Lower priced imports are also driving the need to continuously reduce operational costs through automated activity.
ATE Tankers uses automation to open up new possibilities for clients. From design to delivery, automation plays an important role at ATE Tankers.
"We are always striving to be more creative and to find new innovations that will give our clients a business edge," says Dan Mejak. "We believe automation can deliver a number of these innovations, so it has a key role to play in the future of the road tanker industry,"
"Whilst in some cases automation is used to replace less precise human practices we also use it extensively to augment and improve human inputs. We don't seek to take people out of the manufacturing process at all. People are what drive our business."
Practically every tanker built by ATE Tankers is customised to the customers' requirements so automation is generally used to facilitate design innovation and to supplement human centric manufacturing practices. It also plays a pivotal role in quality assurance.
Their production line employs an automated system to rotate the tank as it is being constructed, which enables everything to be positioned with a high degree of precision during welding.
"We use an automatic seam welder for joining panels as the tank walls are constructed. This automated welding system allows the operator to focus on overall precision and quality instead of focusing on the weld itself."
The company also uses Computer Numerical Control (CNC) technology for highly accurate metal marking and cutting.
With a skilled team of professional engineers, qualified welders and management personnel, ATE Tankers is fast becoming a recognised global industry leader, consistently providing exceptional value to its customers through innovative, safe and quality solutions.