BAE Systems has been awarded a contract option by the US Army to complete the low-rate initial production (LRIP) of the M109A7 self-propelled howitzer and M992A3 ammunition carrier.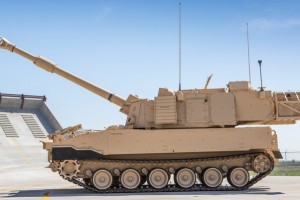 The company was awarded a one-year base contract for the M109A7 in October 2013, as well as two option year awards for 2014 and 2015, the first of which was exercised with the delivery of 18 vehicle sets In October 2014.
According to the press release by BAE, the current exercise is for the second option year to produce an additional 30 vehicle sets worth approximately $245.3 million.
"With all two options exercised, BAE Systems will deliver a total of 66 vehicle sets plus one additional SPH and associated kits, spares, and technical documentation to complete the LRIP phase," reads the press release.
The M109A7 represents a significant upgrade over its predecessor, the M109A6 Paladin Self-Propelled Howitzer. Although it uses the existing main armament and cab structure of the M109A6, the new model replaces the vehicle's chassis structure with a new design, increasing survivability and allowing for the integration of Bradley common drive-train and suspension components.
Moreover, the system features technologies developed under the Crusader and Non-Line-Of-Sight Cannon programs such as a 600 volt on-board power generation, distribution and management system, coupled with high-voltage gun drive and projectile ramming systems.
"The success of this program is directly attributable to the partnership between the Army and BAE Systems," said Adam Zarfoss, director of Artillery and Bradley programs at BAE Systems.
"We've worked as a team to bring this much needed enhanced combat capability to the soldier to address immediate needs while providing a platform that can support future growth as requirements evolve."
Work on the M109A7 is currently progressing at the Anniston Army Depot, Alabama and BAE Systems' York, Pennsylvania, and Elgin, Oklahoma, facilities.