Four months ago, Arizona-based Local Motors, the company that unveiled the world's first 3D printed car – the Strati – announced plans to get into the automotive industry next year and start selling 3D printed cars.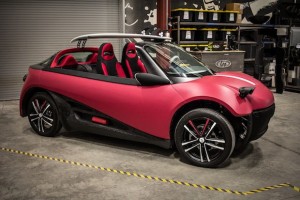 A couple of days ago, the company announced that it is almost ready to launch its first 3D printed highway-ready consumer vehicle, the LM3D Swim.
The LM3D series of 3D printed cars will be manufactured at a Knoxville microfactory; the vehicle's powertrain and the chassis will be the only parts that will be supplied by an automotive partner.
In a blog post, Local Motors said pre-sales are scheduled to commence at the beginning of 2016 via an Indiegogo campaign. One LM3D 3D printed car will cost $53,000.
The LM3D is based on the winning design of Kevin Lo, an engineer who works for Hewlett-Packard Co. making high-tech printers.
As the winner of Local Motors' online contest, Mr Lo was awarded $7,500 for his 3D-printed car design which was selected by the Local Motors design community and a panel of judges that included former Tonight show TV host and car aficionado Jay Leno. His design will be the foundation of Local Motors' first 3D printed road-ready car, the LM3D.
One of the most interesting things about the 3D printed car by Local Motors is the fact that each LM3D vehicle is constructed with less than 50 individual parts versus 30,000-plus in traditionally manufactured vehicles.
"This means far less tooling and fewer suppliers to continue producing them. One 3D-printed vehicle can be built to completion in a matter of hours with one machine doing most of the work," Local Motors says.
Further, the LM3D is safe, sustainable and smart.
"The LM3D epitomises vehicle safety and sustainability, and incorporates all the latest GPS and digital mapping "smart" technology to ensure a smooth, enjoyable ride for all."
The LM3D series will be showcased at the Specialty Equipment Market Association (SEMA) Show at the Las Vegas Convention Centre from 3–6 November.
For more detailed info, please go to www.localmotors.com