Dubai based media, marketing and design company D Idea Media has developed and installed "community tech hubs" in the form of 20-foot palm trees all over the city.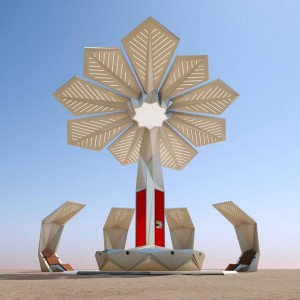 These so-called Smart Palms are made from concrete and 3D printed fibre-reinforced plastic with ultraviolet and humidity protection.
The Smart Palm is a green self-sustainable device recharge station and info point with complimentary Wi-Fi access.
Equipped with mono crystal solar panels, the palms collect solar power that provides illumination at night and also turns the palm into a recharge station for phones, laptops and tablets.
One Smart Palm has the capacity to charge 50 devices at a time and to project WiFi radius of nearly 53 meters.
The palms are also equipped with touch screens that provide detailed information about the area, 360 degrees infrared CCTV cameras and an Emergency Button.
Aside from this, each Smart Palm provides space for public info messages, government notices and commercial advertisements.
While they wait for their devices to charge, users can enjoy the shade and relax in the sitting area which is available next to each palm.
The Smart Palms are part of the Smart Dubai imitative which aims to transform Dubai into a wold leader in smart technology.
Dubai has been selected to host the World Expo 2020, with the theme "Connecting Minds, Creating the Future".
"In today's highly interconnected World, a renewed vision of progress and development based on shared purpose and commitment is key. While a single human mind, and individual country or a specific community is both unique and remarkable, it is by working collaboratively that we truly advance" – His Highness Sheikh Mohammed bin Rashid Al Maktoum, Vice President and Prime Minister of the UAE and Ruler of Dubai
The World Expo is set to create 277,000 new jobs in the UAE and inject up to $40 billion into the economy.
For more detailed info about the Smart Palms, please go to http://smart-palm.com