BAE Systems has announced that the second of the Landing Helicopter Dock (LHD) ships being built for the Royal Australian Navy (RAN) commenced her final period of sea trials yesterday and will be delivered later this year.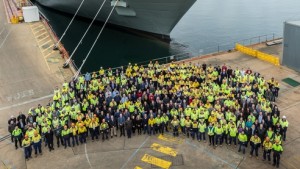 NUSHIP Adelaide was built at the company's Williamstown shipyard in Victoria, so around  200 BAE Systems employees, equipment/system subcontractors, RAN crew members and representatives from the Department of Defence Capability Acquisition and Sustainment Group will be on board to support the trials.
The ship will leave the Williamstown shipyard, head up the eastern coast of NSW to the Jervis Bay area and return in about 10 days.
"Everyone who has worked on this program should be proud of their contribution in delivering a step change in capability to the RAN. We have integrated the many systems that have brought the ships to life and which will be vital during their service to the Navy, both for defence of Australia as well as for providing humanitarian aid and disaster relief. Of course as the prime contractor for the In Service Support of both LHDs, our connection with, and commitment to, these amazing vessels will continue long beyond the delivery of NUSHIP Adelaide," said Director of Maritime, Bill Saltzer in a news release.
BAE Systems delivered NUSHIP Adelaide's sister ship NUSHIP Canberra last October.
The 27,000 tonne warships are the largest vessels ever constructed for the Royal Australian Navy (RAN) and will provide the Australian Defence Force with one of the most capable and sophisticated air–land–sea amphibious deployment systems in the world.