3D printing giant 3D Systems has announced that it has expanded its PlasticJet Printing materials to include Nylon for CubePro 3D printers.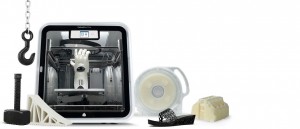 The new filament has been specifically designed to be used with the company's new Infinity Rinse-Away water-soluble support filament that can be used to print more complicated pieces with ease.
"When prototyping my custom-built, visual effects robot I knew ABS would be strong enough for some fit testing; but when it got to doing the real work, the functional testing and ongoing use, I needed the strength and endurance that Nylon delivers," said Luke Schantz, Technologist at SoftLayer.
"I've used a lot of desktop 3D printers and a mix of materials on the market, but CubePro with Nylon is a product-material combination that is unmatched in performance."

Aside from having a smooth surface finish, the new Nylon filament is strong, flexible and durable and can transform any 3D printer into an economic tool for low volume, high value direct-manufacturing.
"We are thrilled to offer this long-awaited material to our core, desktop user base, empowering engineers, small businesses and start-ups alike with the most durable and high performing material for PlasticJet Printing," said Peter Theran, Vice President, Global Consumer Products, 3DS.
"Nylon for CubePro takes desktop 3D printing where it's never gone before: into direct-manufacturing and end-use part production."
According to the company's press release, Nylon for Cube Pro comes in a new Smart Cartridge equipped with a hydroscopic seal, which prolongs the material's shelf life for up to 12 months.
Nylon cartridges are priced at $149 each (Black, White and Natural) and are available immediately on Cubify and through select distributors.
For more detailed information, please go to http://www.cubify.com/nylon