BAE Systems Australia has extended the scope of its existing in-service support contract with the Royal Australian Air Force (RAAF) by agreeing to provide operational maintenance for RAAF's Hawk 127 Lead-In Fighter fleet.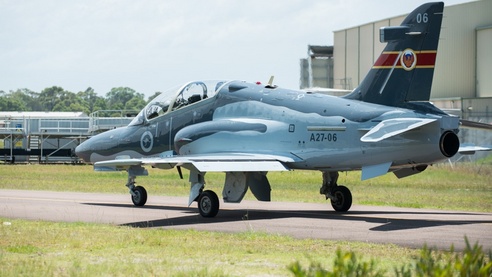 The changes to the current contract – to be phased-in from October this year – will see BAE deliver all maintenance support on the flight line to the Hawk fleet at RAAF Bases Williamtown and Pearce, directly supporting the training of Australia's next generation of combat aircrew.
According to the press release by BAE, the new expanded agreement includes providing aircraft launch and recovery services, on-site management support, as well as deployment operations.
"Under the change to the existing Hawk Lead-In Fighter In Service Support Phase 3 contract, BAE Systems will now provide the total Hawk sustainment solution, managing both deeper and operational maintenance," reads BAE's press release.
BAE Systems Australia Director Aerospace Steve Drury said the revised contract reinforced the long-standing partnership between the Company and the Department of Defence.
"By building on the unified approach we have with the Department of Defence to deliver Hawk deeper maintenance, our operational maintenance solution enables a more holistic approach to Hawk support that maximises aircraft serviceability for less cost," Mr Drury said.
"This outcome is a testament to our people and performance over more than a decade with 78 Wing, 76 and 79 Squadrons and the Tactical Fighter Systems Program Office. We are proud to be expanding our support of this important RAAF capability."