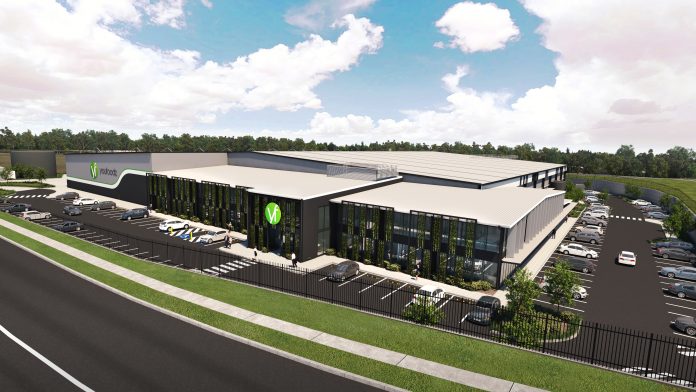 Media Release
Youfoodz is delighted to announce it has finalised arrangements with LOGOS Property Group (LOGOS) for the construction and lease of its new world-class production facility at Berrinba in Queensland.  
The custom built 13,700m2 facility will bring together Youfoodz three existing production sites, as well as its marketing, administration and distribution locations under one roof to deliver enhanced productivity, efficiency and collaboration.  LOGOS will manage the construction of the new facility for Youfoodz at its Berrinba Logistics Estate which is due to commence in the coming months.
The new energy efficient and environmentally friendly facility represents an important step-change for Youfoodz that will:
·        Significantly increase production capacity from the current, capacity constrained 420,000 meals per week to 800,000 per week – increasing to 1.5 million meals per week in time.
·        Increase raw material demand from 160 tonnes processed per week to 350 tonnes and higher over time which will benefit local primary producers who provide approximately 90% of ingredients.
·        Increase employment through the creation of 140 new roles at Youfoodz when production approaches one million meals per week, and 350 jobs through the construction of the facility. 
·        Provide access to new customers as the facility will be constructed to global food safety standards.
·        Provide world-class food and employee safety through the application of leading technologies and purpose-built design.
Youfoodz CEO Lance Giles said: "This is a significant project in the evolution of Youfoodz, which is expected to deliver considerable benefits to the company, our employees, customers and suppliers. Once commissioned, the new facility will materially increase our capacity for growth, improve efficiency, deliver world-class food and employee safety, and achieve improved energy efficiency and environmental sustainability through a modern purpose-built design. And in bringing all our Brisbane based employees under one roof, we expect significant employee culture and collaboration benefits."
Lord Mayor Adrian Schrinner said he was delighted Youfoodz was consolidating its production sites to the one Brisbane location.
"Youfoodz' new facility is evidence that even in these challenging economic times, there's opportunity for expansion with the right support," Cr Schrinner said.
Cr Schrinner said Brisbane Economic Development Agency (BEDA) worked alongside Youfoodz management to help the business with site options and to navigate the development approval processes.
"By working with Youfoodz, we've helped this great business expand and we're eager to work with other businesses to mirror this success, which will help Brisbane recover and create jobs," he said.
LOGOS' Head of Australia & New Zealand Darren Searle commented: "We are delighted to be partnering with Youfoodz on this important project. LOGOS has a strong track record in developing world-class food and logistics facilities in Australia, New Zealand and across Asia and is looking forward to delivering this new purpose-built facility for Youfoodz."
Aside from a world-class manufacturing facility containing new equipment, streamlined food handling processes and industry leading food safety standards, the new site will feature a two-level office structure, containing a mix of structured and flexible working zones, a fully equipped gym, lockers with shower facilities, a full menu development kitchen, photography studio, meeting spaces and training rooms.
Completion of the build is expected within July and September 2022 when Youfoodz will start to transition to the new site.  While construction is underway, it will be business as usual at our existing sites as we continue produce and deliver the food our customers love.