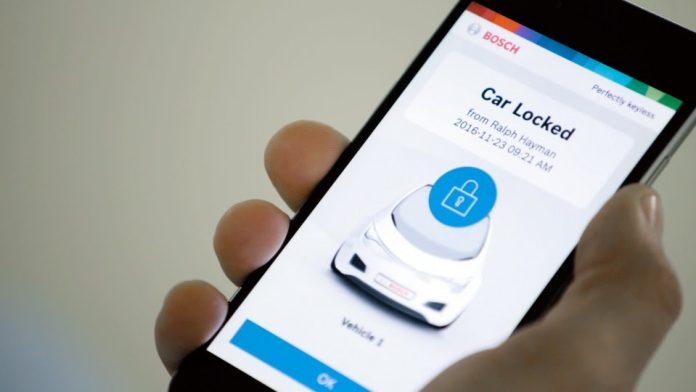 Bosch has unveiled a new app that can turn your smartphone into your car key, and it's called "Perfectly Keyless".
Designed by Bosch Automotive Electronics division in Australia, the new app works by allowing the smartphone to be identified by on-board sensors as the driver approaches the car.
"Perfectly Keyless, our digital vehicle access system, means that drivers will be able to do without traditional car keys. It's a great example of stress-free connected mobility," says Harald Kröger, President of the Bosch Automotive Electronics division.
"Once this identification has happened, the vehicle is unlocked without any need for a physical key. Similarly, no key is needed to start the engine or to lock the car again at the end of a journey," Kröger says.
So how does this whole process work?  First, drivers need to download the app on their smartphones and then connect their cars to the app. Once this is done, the smart phone will generate a one-off security key for the vehicle's digital lock. As soon as the driver approaches the car, the on-board sensors will locate them and the car door will unlock. These sensors will need to be installed by automakers, along with the control unit. But that's not all. Not only will the car unlock, predetermined individual settings will also be activated and the engine can be started with just a push on the start button as soon as the app acknowledges the smartphone in the vehicle.
"Perfectly Keyless is an example of the high-value engineering work that can be done in Australia in a post-passenger vehicle manufacturing environment," says Gavin Smith, President of Bosch Australia.
Security is a major issue in every field, so in this case if a driver loses his smartphone, he or she can deactivate the digital key online, thus blocking access to the vehicle. Then, a new smartphone can be connected to the vehicle and a new security key will be generated.
Bosch Australia says this Aussie innovation will hit the market in two years. The company has over 200 engineers working in the development and application of vehicle electronics, cyber security gateways, vehicle safety and driver assistance systems for the global car industry.
Provided image