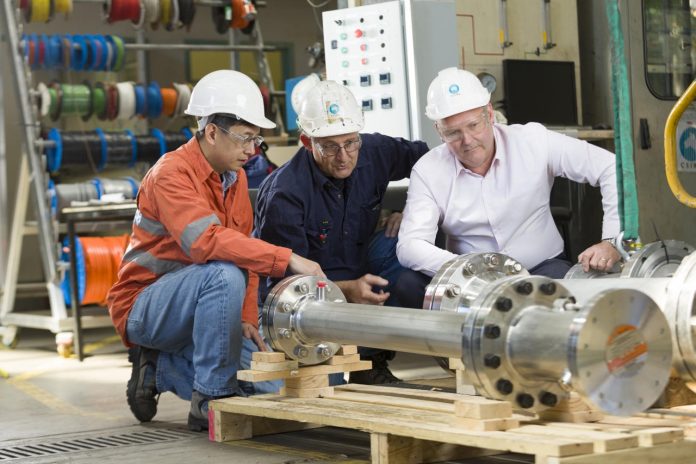 BOC has announced that it has signed an agreement with the Commonwealth Scientific and Industrial Research Organisation (CSIRO) to collaborate on a ground-breaking $3.4 million hydrogen project – converting ammonia to high-purity hydrogen for use in fuel cell vehicles (FCVs).
BOC, a member of The Linde Group, one of the world's leading gases and engineering companies, will support the CSIRO by providing the ammonia, which will be cracked and purified into pure hydrogen by the CSIRO-developed modular membrane technology unit.
"As the only global organisation with expertise and technology that covers the entire hydrogen supply chain, BOC and The Linde Group are committed to working with Australian researchers and industry to help advance the global transition towards clean hydrogen for mobility and energy," said BOC General Manager Hydrogen Alex Dronoff.
"We look forward to sharing our extensive experience with CSIRO as they enter the final development stages of the membrane technology device – providing advice on generation and storage, right through to transportation and refuelling of hydrogen-powered vehicles."
The two-year project recently received $1.7 million from the Science and Industry Endowment Fund (SIEF), which will be matched by CSIRO.
"We're pleased to be partnering with industry – including BOC – and look forward to applying CSIRO innovation to facilitate the creation of new low emissions energy markets," said CSIRO Energy Director Karl Rodrigues.
Australia does not have a largely developed hydrogen market, but the hydrogen fuel can be exported to emerging markets in Japan, South Korea and Europe, according to Chair of Renewable Hydrogen, Brett Cooper. This new technology is set to disrupt the global supply chain for hydrogen.
"With this technology, we can now deliver our renewable energy to Japan, Korea and across the Asia-Pacific region in liquid form, as renewable ammonia, and efficiently convert it back to pure hydrogen for cars, buses, power generation and industrial processes," Mr Cooper said.
"This market didn't exist 10 years ago – now Australia is positioned to be the number one renewable fuel provider in the world's fastest growing region."
According to Mr Dronoff, CSIRO's technology complements the work done so far by The Linde Group in this area.
"With more than 150 fuelling stations built worldwide and over 1.5 million refuelling operations completed, Linde is continuously working on the expansion of hydrogen infrastructure. In August 2016 Linde launched BeeZero, the world's first hydrogen-powered car sharing service – and is a joint partner of the Energie Park Mainz project that produces and stores renewable hydrogen for mobility applications generated by electrolysis through wind energy at a grid-relevant scale." Dronoff said.
"With this CSIRO technology, it will be easier and faster to replicate this success on an even larger scale. We are certainly excited by the significant role that Australia will play in making renewable hydrogen a fuel of the future."
Provided image