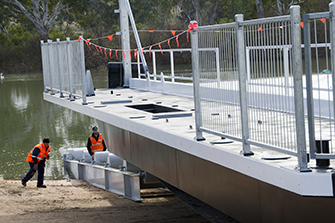 The South Australian Government has selected Bowhill Engineering to replace the two remaining timber-hulled ferries operating on the River Murray following a competitive tender process which entertained offers from a total of five businesses.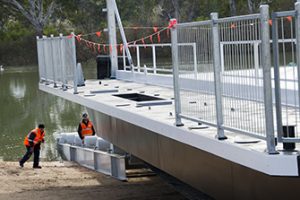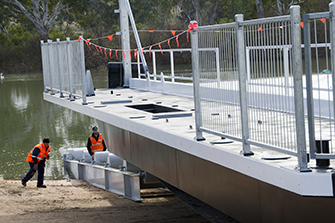 The contract was awarded as part of the state government's $12.8 million initiative to replace four ageing timber-hulled ferries with steel-hulled ferries.
Prior to winning this tender, Bowhill Engineering was also selected to construct the first two steel hulls, with one ferry already in operation at Lyrup neat Berri.
The second hull is currently being fitted out at the Department of Planning, Transport and Infrastructure's Morgan dockyard and is scheduled for launch next month, with the final two ferries expected to be operational by 2018.
Bowhill Engineering's Managing Director Jeremy Hawkes said the company was thrilled to have been chosen to deliver the second part of this important regional project.
"At the beginning of the ferry replacement project back in 2014, we set ourselves the ambitious goal of providing unprecedented value for money to DPTI and the South Australian taxpayer," Mr Hawkes said.
"The opportunity for our dedicated team to deliver the second part of this project is verification that we have been able to deliver on this goal. Local people having a chance to deliver important local infrastructure, creating and maintaining regional employment, does it get any better than that?"
Transport and Infrastructure Minister Stephen Mullighan said the project will provide job stability for the company's skilled workforce of about 25 people, and support growth for up to three additional staff.
"It is great to see a local company awarded this contract. Through the competitive tender process Bowhill Engineering demonstrated that it is the best-placed business to build the remaining two ferry hulls," the Minister said.
"Load limits can cause inconvenience for ferry users and can impact on productivity, particularly for farmers and transport operators who are forced to find alternative routes."
He said the investment will help to improve the reliability of the ferry services along the River Murray by lifting the remaining load limits on the existing timber-hulled vessels.
"We are very pleased to have a local River Murray business undertaking this work on behalf of communities along the River Murray and we look forward to delivering the full fleet to steel-hulled ferries," the Minister concluded.