Tindo Solar, Kudos Energy and SunEdison will receive funding from the Government's Clean Energy Finance Corporation (CEFC) which is set to provide up to $120 million for three new finance programmes designed to help expand and deepen the Australian solar PV market.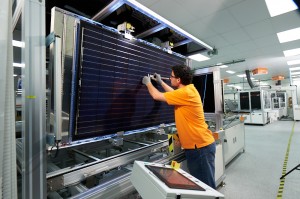 The CEFC will provide $20 million to help Australia's only solar module panels manufacturer Adelaide-based Tindo Solar to sell the power under a power purchase agreement (PPA) to commercial and residential customers with local groups Impact Management and Lighthouse Infrastructure, reports The Australian.
"We have been committed to building an Australian solar manufacturing business using our local technical expertise and innovation and have built a strong base. But we have the capacity to expand the business and by offering PPAs to homeowners and the commercial sector more people can choose a quality, local product at no cost to them," Tindo managing director Adrian Ferraretto said in a media release.
"The CEFC's finance will help us to grow the business and bring an Australian solar panel offering to more customers."
Another $30 million will be committed to encouraging PPAs to a company backed by US Angeleno Group and Australia's Kudos Energy.
"Working with the CEFC has allowed us to provide this solar PV financing option in Australia so that more people can choose to benefit from solar power, regardless of their circumstances," said Kudos Energy Managing Director David Jones.
The CEFC will also commit $70 million in senior debt finance to bring US solar giant SunEdison to the Australian market and open up a range of new finance products that include leases and PPAs.
"We are proud to partner with the CEFC and bring our global project financing and development experience to provide financially attractive, high quality solar solutions to Australia," said Pashupathy Gopalan, President of SunEdison Asia Pacific, Middle East and South Africa.
"By expanding the financing options available and introducing new financing models tailored for different market segments, we can help more individual households and businesses to make better use of our resources and save on their energy costs," said CEFC CEO Oliver Yates in a media release.
PPAs have an extensive history in the US and have been widely adopted by both residential and commercial customers in the States where they are available. While PPAs have been used in Australia for larger-scale projects they have rarely been used for smaller businesses or the residential sector.