A delegation of CFMEU pulp and paper workers visited the Parliament House yesterday to brief local MP's and seek their support on their "Don't Shred Pulp and Paper Jobs" initiative.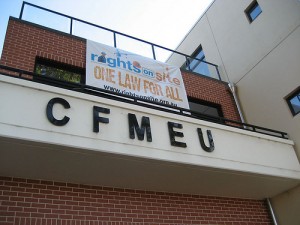 According to the media release issued by CFMEU, the delegation consisted of pulp and paper workers from Tasmania, Melbourne, Gippsland, Shoalhaven and Millicent.
The delegation was led by Alex Millar, National Secretary of the CFMEU's Pulp and Paper Worker's District, and the briefing session was mainly focused on workers' job security.
The MP's were asked to sign a pledge and set the right example to the community by buying Australian made pulp and paper products for personal use and their offices.
"Australian manufacturing is put under threat every day by the extensive use of imported paper by Governments, their agencies and businesses," Mr. Millar said.
"We want MPs to use their influence to encourage the Federal Government to provide a fairer go for Australian industry, particularly in Australia's domestic markets."
The pulp and paper workers want the MP's to follow in the footsteps of Gippsland's MP Darren Chester who has taken a firm stand in fighting for and defending the rights of workers, families and communities in his electorate.
Mr. Chester recently submitted a petition to the House of Representatives which was signed by thousands of CFMEU members from the pulp and paper industry.
The petition called on the Government to buy locally made paper whenever possible and only turn to imported paper when such a decision can be justified on social, economic and environmental basis.
Further, pulp and paper workers asked the MP's to lobby for the much needed amendments to Government policy, mainly:
•         Committing the Australian Government, its agencies and businesses to use less imported paper and buy more Australian Made paper;
•          Ensuring overseas suppliers adhere to the same standards required of local businesses and workers;
•          Preventing unfairly dumped paper products from being imported from overseas; and
•          Preventing misuse of market power by major retailers and office suppliers, ensuring local manufacturing viability and ongoing competition in the market place.
"Local MPs signing the pledge today will signal to workers and families in their electorates that they are committed to supporting their livelihoods," concluded Mr. Millar.