South Australia's leading manufacturers got a glimpse of the latest technology showcased at the University of Adelaide's Institute for Photonics and Advanced Sensing.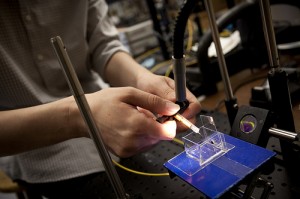 According to the news release issued by Manufacturing, Innovation and Trade Minister Tom Kenyon, the first of many planned site tours was part of the Manufacturing Works Innovation and New Technologies initiative.
"The State Government is providing $500,000 over two years to the University of Adelaide to deliver the Photonics Catalyst Program and to support collaboration between South Australian manufacturers, researchers, end-users and government," Mr. Kenyon said.
"Photonic technologies, such as sensors, lasers and optical fibres represent a high-value opportunity for manufacturing companies and high-technology jobs for South Australians."
Mr. Kenyon further added that yesterday's tour showcased the Institute's applied research capabilities and facilities.
Professor Tanya Monro, Director of the Institute for Photonics and Advanced Sensing, said the Photonics Catalyst Program is aimed at boosting industry and university interaction.
Professor Monro added that the Program will allow local industry to get acquainted with the latest developments in the fields of expertise, equipment, capabilities and technologies.
"We are really excited to be working with the South Australian Government to design and develop this innovative program," she said.
"It will enable our scientists to work on and solve real-world problems that will benefit our local manufacturing industry. "
According to Professor Monro, the program will enable the creation of a collaborative South Australian-based photonics ecosystem that will support locally manufactured advanced lasers, sensors and other photonic devices that are exported all over the world.
The Department for Manufacturing, Innovation, Trade, Resources and Energy is already preparing a schedule of planned industry site tours to many other centers of applied research excellence in South Australia for the upcoming 2014.
These industry site tours will include many other Manufacturing Works programs that are aimed at supporting collaboration between industry and the applied research community, such as the Innovation Voucher Program, Medical Technologies Program and NanoConnect Program.
For more information about the PCP visit: http://www.dmitre.sa.gov.au/manufacturing_works