Civmec, in collaboration with ThyssenKrupp Marine Systems (TKMS), has embarked on a new era of digital shipbuilding with the unveiling of a submarine hull section that was designed by the German naval ship designer and constructed by the Australian company at its Henderson facility in WA according to specifications that were digitally transmitted to their factory.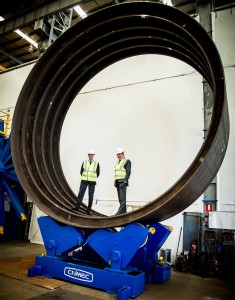 ThyssenKrupp Marine Systems is one of several leading naval ship designer builders to embrace Integrated Product Design Environment (IPDE) for submarine development. This technology is considered to be the future of digital shipbuilding and has proven to provide substantial savings in terms of cost and schedule.
Chairman of ThyssenKrupp Marine Systems Australia, Dr John White, said the technology all but eliminated the risks associated with transferring information from one country to another and offered a "new way of doing business".
"Today's revealing of the hull section at the Australian Marine Complex (AMC), Henderson is a perfect example of how leaders in the global shipbuilding industry are changing the way they will do business in the future," Dr White said on Monday.
"ThyssenKrupp Marine Systems is at the forefront of integrated digital design, construction and sustainment and sees IPDE as an area of huge potential as Australian shipbuilding meets the challenges of the future. The spin-off impact on advanced manufacturing in Australia will be enormous."
ThyssenKrupp Marine Systems is among the companies participating in the Federal Government's Competitive Evaluation Process to select the International Partner to build Australia's next generation of submarines.
Mr White said the company sees digital design, construction techniques and data management as a key part of its approach.
"The use of digital technologies in advanced manufacturing provides a generational opportunity for our country, as we can now design and build a submarine, being one of the most complex pieces of defence equipment, by bringing all required skills and capabilities together and maximising cost and resource efficiencies," he said.
"Integrated digital production extends across all aspects of the build, including fit–out, then configuration management, monitoring and support through the operating life-cycle of each submarine."
Civmec Executive Chairman Jim Fitzgerald said the construction proved that Civmec has the technological expertise and know-how to be seriously considered for construction of Australia's future naval submarine fleet.
"We've never done anything like this before, so to get into the business if we build a section of the submarine at our cost, we can demonstrate to everybody that we have the ability," he said.