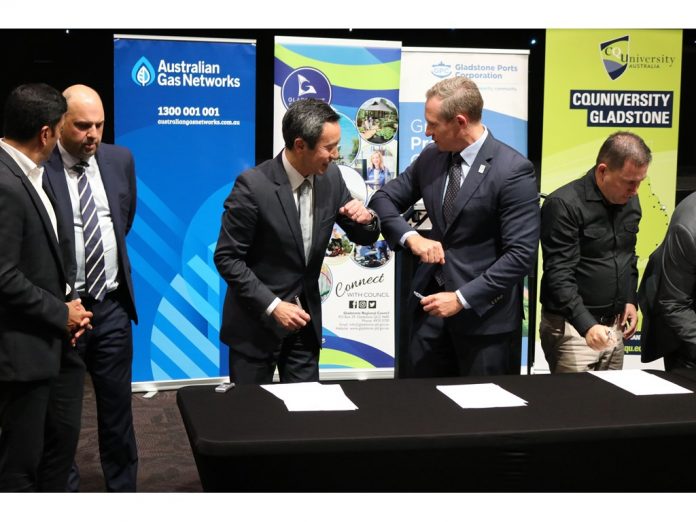 Queensland's publicly-owned renewable energy generator CleanCo has signed an agreement to join Sumitomo Corporation and its partners on their quest to develop a robust hydrogen industry in Gladstone.
Earlier this year, Sumitomo inked a Memorandum of Understanding (MoU) with Gladstone Ports Corporation, Gladstone Regional Council, CQUniversity Australia and Australian Gas Industry Group to develop Australia's first hydrogen ecosystem in Central Queensland.
The project partners are looking at establishing a hydrogen industry that will produce commercial scale quantities of hydrogen and support Central Queensland industries to move closer to their decarbonisation goals.
Minister for Energy, Renewables and Hydrogen Mick de Brenni said the agreement was 'another piece in the development of the Queensland renewable hydrogen ecosystem'.
"As a government we established CleanCo to drive the energy transformation, providing reliable, competitively-priced, low-emission energy to the market and to ensure that Queensland is running on 50 percent renewable energy by 2030," the Minister said.
"This agreement will support that goal with hydrogen set to be a major player in our energy mix, creating jobs and opportunities particularly in regional Queensland.
"We welcome CleanCo joining us in this exciting new industry for Queensland as we believe production of commercial scale quantities of hydrogen in Gladstone stands to benefit a number of industries including heavy freight, green chemicals production and mineral processing.
Minister for Regional Development and Manufacturing and Member for Gladstone said the agreement would cement in Gladstone's position as Queensland's green hydrogen capital.
"This agreement means more jobs in more industries in the Gladstone region directly associated with the hydrogen industry," Mr Butcher said.
"It will also mean opportunities for Queensland manufacturers to become part of the important supply chain required to grow the green hydrogen industry and keep it running – creating even more jobs."
CleanCo Chair Jacqui Walters said the Gladstone MOU underlined CleanCo's continued focus on achieving Queensland's energy transformation goals.
"The plans for Gladstone will support our work in developing all elements of the renewable supply chain right here in Queensland, for Queenslanders," Ms Walters said.
"Queensland already has the right skills and the technology. Partnerships like this one ensure we are using these to power domestic demand and to drive our global competitiveness."
Image credit: https://statements.qld.gov.au/statements/91710