Premier Annastacia Palaszczuk and Training and Skills Minister Yvette D'Ath have revealed construction has commenced on Aviation Australia's $10 million training facility which will support 60 jobs during construction and train an extra 500 students on completion.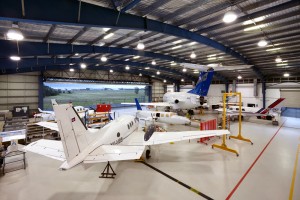 Speaking at the official ceremony that marked the start of construction, Ms Palaszczuk said the training facility at Brisbane Airport was an important step forward for the largest aviation training and administration centre in the southern hemisphere.
"This will take Aviation Australia to the next level and cement Brisbane Airport – and Queensland – as a global hub for aviation. This new facility, with capacity for 500 more students, sets a clear course for future growth. It is a great show of confidence in the sector, and a big boost for jobs in Queensland," Ms Palaszczuk said.
"Queensland's aviation sector really started to fly under a former Labor Government, and I'm committed to watching it grow from strength to strength. That's why my Government committed to a $10 million boost to the Attracting Aviation Fund. Now with this new facility, developed by Brisbane Airport Corporation, we can further build our growing international reputation and create more job opportunities for Queenslanders."
Aviation Australia was established by the State Government in 2001 to promote Queensland as a premier aviation and aerospace location for the Asia-Pacific region. Today, Aviation Australia is a training partner to over 60 airlines and aerospace companies, governments, defence forces and regulatory authorities, providing students with basic aircraft maintenance engineer and flight attendant training qualifications recognised by both the Civil Aviation Safety Authority (CASA) and the European Aviation Safety Agency (EASA).
Queensland has more than 900 aviation and aerospace companies contributing around $6 billion to the state economy each year and employing more than 16,500 Queenslanders.
Training and Skills Minister Yvette D'Ath said the new Aviation Australia facility – due to open in March 2016 – demonstrated the Government's commitment to creating more opportunities for young Queenslanders to gain the skills they need.
"The provision of world-class, job-ready skills for Queensland's vocational education and training students is one of our government's highest priorities. By working with industry to create more training opportunities, we can increase our skills base and see industry's expand," Ms D'Ath said.
"The Palaszczuk Government is serious about putting Queenslanders back to work. We want to ensure that no matter where they live, all Queenslanders can access real jobs and real employment opportunities."