One of the largest industrial trade shows in the world, the International Manufacturing Technology Show (IMTS) kicks off this 8 September 2014 in Chicago, Illinois, marking its 30th edition.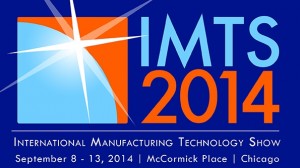 Manufacturers, vendors and technology providers from all over the world, nearly 2000 to be exact, will showcase 15,000 new machines, gadgets and tools in the 1.2 million square feet facility of McCormick Place, to demonstrate the latest advances in manufacturing technology.
The organisers expect a crowd of over 100,000 manufacturers, buyers, sellers and operators, so the theme of this year's show seems quite fitting: "Come together".
The 2014 IMTS is forecasted to be one of the largest manufacturing gatherings since its beginning.
The power and capability of the combined force of the most relevant manufacturing technologies of today – robots, big data and 3D printing – will have the main focus.
Exhibits will be organised in Pavilions geared up for specific industries, technologies and solutions.
As part of the show, the Smartforce Student Summit is set to encourage career consideration in the manufacturing technology industry where participating exhibitors will provide information about the industry to all who are eager to learn.
This year's show will also feature the launch of Motion Drive, & Automation North America (MDA NA). The event will feature technologies and solutions for the power transmission, motion control and fluid technology sectors together.
The IMTS Conference Program is set to bring industry experts together to provide the most useful and up-to-date technical information, tracking Process Innovations, Alternative Manufacturing Processes, Plant Operations, Quality/Metrology and Systems Integration.
Conference registration includes access to the exhibit hall for all 6 days of the show: IMTS 2014 Conference, TRAM – Trends in Advanced Machining, Manufacturing, and Materials, Additive Manufacturing Workshop, Motion, Drive and Automation Conference, EOS Naud 2014 – EOS North America User Day, and Global Automation & Manufacturing Summit.
Michelle Edmonson, Exhibitions Operations Director for IMTS/AMT, and Steve Miller will provide all the necessary information on how to get the most of this year's show during the IMTSedu Webinar scheduled for Thursday, 21 August at 11am.
Registrations are now open. Don't miss out on the biggest show in Manufacturing, Register today!
On-site registration is open Monday, 8 September through Saturday, 13 September, in all four buildings of McCormick Place.