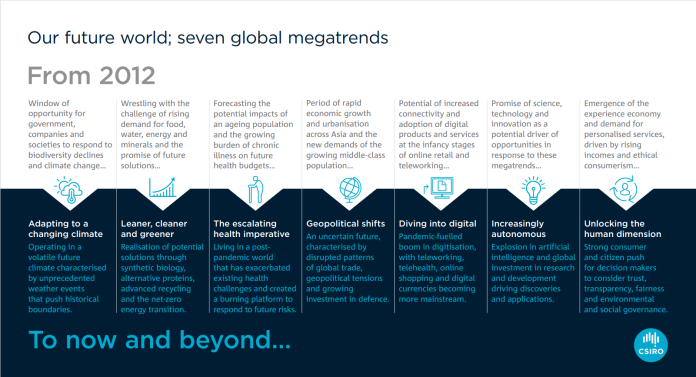 The Commonwealth Scientific and Industrial Research Organisation (CSIRO) has identified the seven global megatrends that are critical to overcoming challenges and opening new opportunities in the future. 
The agency's decennial Our Future World report has looked into the global occurrences in geopolitical, economic, social, technological, and environmental fields and projected their likely impact on Australia's people, businesses, and governments in the next 20 years.
The global megatrends are: adapting to climate change; leaner, cleaner, and greener escalating health imperative; geopolitical shift; diving into digital; increasingly autonomous; and unlocking the human dimension. 
Larry Marshall, chief executive officer CSIRO, said a "tidal wave of disruption" is on its way to Australia as the country turns to a pivotal point in modernisation. 
"From resource scarcity to drug-resistant superbugs, disrupted global trade, and an increasingly unstable climate threatening our health and way of life – these are just some of the challenges we face. But these challenges also tell us where the most powerful innovation can be found, when we see a different future and leverage science to create it," Marshall said. 
The CSIRO CEO also projected that the next wave of digital innovation will generate approximately $10 trillion to $15 trillion globally. 
"Australia can tap into this to transform existing jobs and create new jobs and wealth while leveraging Artificial Intelligence to solve some of our greatest challenges, like outthinking bushfires, accelerating vaccine development, predicting drought, or stabilising our energy grid."