The report titled A Digitally-enabled Health System, released by Australia's national science agency, the Commonwealth Scientific and Industrial Research Organisation (CSIRO) reveals that robots in hospital wards and smart apps on mobile devices and home-monitoring systems are set to transform the health system in Australia by reducing costs and delivering quality care.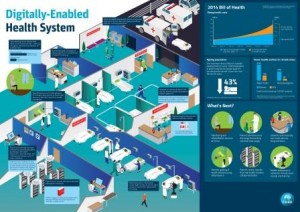 According to the media release by CSIRO, some of the technology identified in the report includes telepresence robots that will be able to take rural health workers on city ward rounds, wireless ID wristbands intended for monitoring patients in real time, mobile health apps that are created to assist with at-home rehab and smart software that can predict what patients will come to emergency departments, 6-12 months in advance.
"We know Australia's health system faces significant challenges including rising costs, an ageing population, a rise in chronic diseases and fewer rural health workers. We need to look at new ways to make the health system work smarter. Digital technologies promise that," said CSIRO Health Services research leader Dr Sarah Dods.
"Medical technology for diagnostics and treatment has improved in leaps and bounds, but many health services are still stuck on paper. People expect the health system to keep up and we're seeing some exciting emerging technologies that will make a big difference over coming years. For example hospitals are the single costliest element in Australia's health system, taking up to 40 per cent of health expenditure, and they are complex to run. But once its information moves off paper, a hospital's complexity can be easily managed by digital technology."
Dr Dods further adds that digital technologies can be utilized to close the healthcare gap in remote communities with the availability of broadband services, with telehealth, wearable devices and telepresence technologies at the forefront of managing chronic diseases at home, automated disease diagnosis and remote training and guidance for rural health workers.
Dr Dods presented the report yesterday at the Healthcare Efficiency through Technology conference in Sydney that is part of Australian Healthcare Week 25-27th March.