Dematic, the global engineering company that provides a comprehensive range of intelligent warehouse logistics and materials handling solutions, has launched a new line-shaft conveyor ideal for handling diverse products such as cases, totes, trays and parcels in distribution, manufacturing and 3PL operations.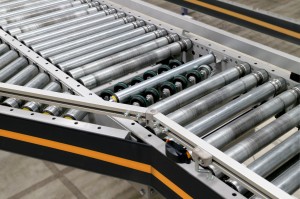 According to the media release by Dematic, the new conveyor completes the family of modular, integrated package handling conveyor systems — Dematic MCS, which delivers fast and quiet performance at a competitive price.
"Dematic MCS is an advanced system that uses a universal side channel and standard components for all modules to provide the ability to change the function of a conveyor without having to replace entire sections of a conveyor system. For example, a section of line-shaft conveyor can be quickly and cost-effectively converted to a roller conveyor for handling a wider range of load types, or a transportation conveyor can be quickly and cost-effectively converted to an accumulation conveyor or vice versa," it says in the media release by Dematic.
Low-cost line-shaft conveyors drive multiple conveying functions such as transportation, zone-routing, merging, diverting and sortation, as well as curves and transfers.
Dematic's MCS line-shaft conveyors — which are extremely flexible and simplify service and maintenance — reduce cost, aside from allowing for a myriad of applications.
The first installation of MCS line-shaft at Rexel Electric in Sydney's Eastern Creek is currently underway.
Dematic MCS — which can be integrated with other devices, such as scanners, sorters, label printing and application devices, case sealers, in-line weigh scales, palletisers and robotic picking and packing systems — has numerous benefits: extensive applications flexibility; easy to re-configure layout; simple to change functionality; simplified servicing; reduced parts inventory; conveys extensive range of load types; excellent product control; uses fewer drives; improved energy efficiency; low operating and maintenance costs.
MCS also allows for standardisation with the same carrier rollers, motor-driven rollers, segmented belts, side frames, electronic sensors, motor controls, zone control logic assemblies, drive belts and other components used throughout all modules.
For more information, visit www.dematic.com