A recent Environmental Scan released by Auto Skills Australia revealed that employment in the Australian automotive sector increased during the 2012/13 financial year, despite the announcement of imminent closures by Ford, Holden and Toyota.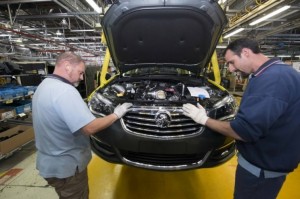 According to the research, aggregate employment within the automotive industry increased by 4,132 jobs to 361,187 for 2012/13, as jobs growth in other sectors compensated for the losses in Manufacturing.
Significant gains have been recorded in Motor vehicle and Parts Wholesaling, Automotive Repair and Maintenance and Motor vehicle Parts and tyre Retailing, recording gains of 5,750, 5,500 and 2,250 persons respectively.
"The employment gains within these sectors have more than offset the losses in the manufacturing and retail sectors, thus resulting in a positive aggregate rise in employment for the whole industry," according to ASA.
While the total value of exports for the industry increased by 5.8% to $3.654 billion in 2012/13, the total value of the country's automotive imports for the same period was nearly $34 billion, almost 10 times the value of automotive exports. Japan represents the largest source of automotive imports at 29%, while the Middle East is the top export market accounting for 39%.
The report also warned that structural change represents the single biggest current issue and future challenge facing the entire Australian automotive industry in both manufacturing and non-manufacturing sectors. Small businesses are facing extreme pressures and closures of automotive body, paint and interior repair businesses are expected to escalate in the coming years.
The key factors affecting these closures are the reduction in vehicle accident rates and the cost of equipment and training required to repair modern vehicles.
The decisions made by the global car manufacturers to cease production in Australia will have a significant impact on the industry, but ASA believes the industry has remained strong amidst the pressure.
"Despite these pressures and developments, the industry as a whole has shown great resilience and continues to be a key contributor to growth and employment within the national economy," said the report.