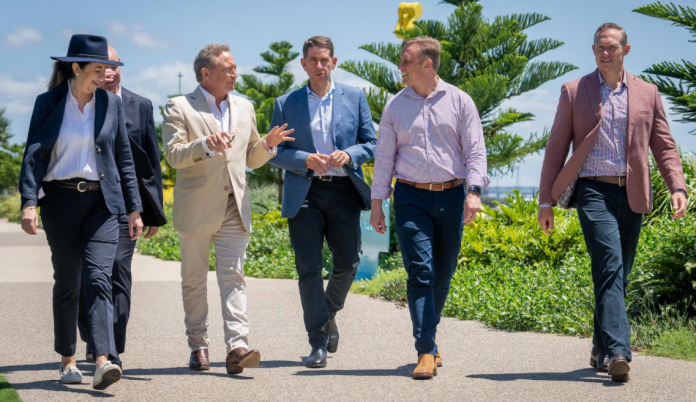 Fortescue Future Industries (FFI) and the Queensland Government have announced the first stage of what will be of the world's largest electrolyser, renewable industry and equipment factory at Gladstone.
FIF said the Global Green Energy Manufacturing Centre (GEM) will be the first step in a series of projects that will continue to transform regional Australia through green industry manufacturing and energy production centres.
According to the company's statement, stage one of the six-stage project will establish Australia's first multi-gigawatt-scale electrolyser factory, with an initial capacity of 2 gigawatts (GW) per annum – more than doubling current global production.
"Subject to customer demand, the total investment could be up to or in excess of A$1 billion as orders firm for electrolysers and other green industry equipment," reads the statement.
"The initial electrolyser investment is expected to be up to A$114 million, with the first electrolysers scheduled for production in early 2023."
FFI Chief Executive Officer, Julie Shuttleworth said the company's goal was to become the world's leading, integrated, fully renewable energy and green products company, powering the Australian economy and creating jobs for Australia as we transition away from fossil fuels.
"Our manufacturing arm, starting with electrolysers and expanding to all other required green industry products, will herald great potential for green manufacturing and employment in regional Australia," Ms Shuttleworth added.
"Our first facility in Gladstone will become an epicentre for Queensland's green hydrogen ambitions, building on its skilled workforce, its great foresight in industrial master-planning, a world class port, and a constructive and supportive State Government."
Qld's Premier Annastacia Palaszczuk said the partnership was expected to create thousands of jobs in years to come, transforming Gladstone into a world-leading hub for the manufacture of electrolysers – vital to the production of renewable hydrogen.
"We don't just want to export our resources – we want to develop a manufacturing industry capable of making the electrolysers in Queensland as well," the Premier said.
"Andrew Forrest and I both see Queensland's great potential as a renewables exporter and manufacturer of hydrogen equipment.
"This partnership will create local jobs, support our economic recovery and create an advanced manufacturing industry in Gladstone that doesn't exist anywhere else in the country."
The proposal is subject to land use planning and development approvals.
Image credit: https://ffi.com.au/news/regional-workers-the-winners-as-fortescue-future-industries-announces-global-green-energy-manufacturing-centre-in-queensland/