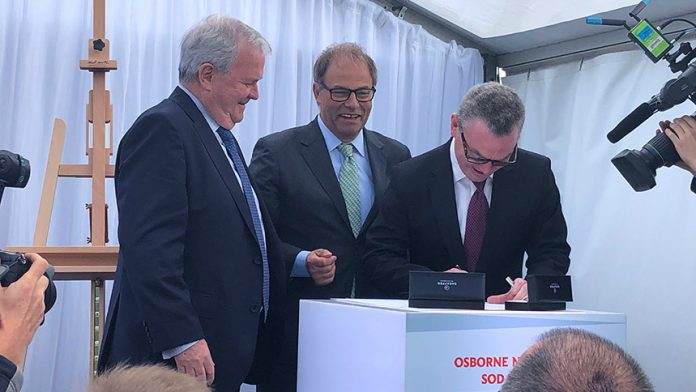 Defence Minister Christopher Pyne yesterday joined Finance Minister Mathias Cormann to witness the historic sod turning event that marked the formal beginning of works at the Future Submarine Construction Yard at Osborne in South Australia.
Laing O'Rourke has been confirmed as managing contractor for the development which Minister Pyne said would create hundreds of construction and infrastructure roles based at the Osborne Naval Shipyard.
"Overseen by managing contractor Laing O'Rourke Australia Construction, these jobs will see the construction, refurbishment and modernisation of purpose-built facilities specifically designed to enable the most effective build of Australia's Future Submarine fleet," the Minister continued.
"The design and construction activities for the new Submarine Construction Yard will be incredibly important and complex."
"I congratulate Laing O'Rourke Australia Construction on being selected as the Managing Contractor."
Minister Cormann said the Government's decisions to establish Australian Naval Infrastructure (ANI) and purchase land and facilities from the South Australian Government in 2017 have enabled work to progress rapidly.
"The investment we have made through ANI will support a sustainable, long-term naval construction industry in Australia," Minister Cormann said.
Mr Pyne also announced that Australia's new future submarines will be known as the Attack class, with the first submarine to be delivered to the Navy in the early 2030s.
He said the negotiations between the Commonwealth and Naval Group on all key provisions of the Strategic Partnering Agreement (SPA) have been completed, with the .deal to be signed in early 2019 and to govern the delivery of the Attack class over the decades to come.
"Work on the design of the Attack class will continue without interruption under the Design and Mobilisation Contract which was signed on 30 September 2016," the Minister continued.
"The full range of other activities required to deliver this major program, including the development of the submarine construction yard, and the ongoing engagement of Australian industry to achieve Australian sovereignty, are also continuing."
Image credit: http://www.laingorourke.com