FLIR Systems, Inc, a world leader in the design, manufacture, and marketing of sensor systems, has announced that it has added new T-Series cameras to its product offering, namely the updated T420 and T440 with 320×240 thermal resolution, and the feature-rich T620 and T640.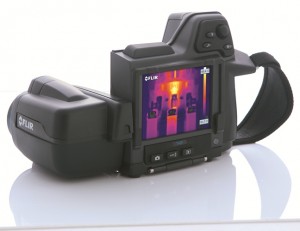 According to the media release by FLIR Systems, Inc, both thermography cameras are specifically designed to help streamline thermal inspections for intensive electrical, mechanical and utility predictive maintenance programs.
Every model comes with FLIR's patented MSX® and offers FLIR's best handheld thermal detector resolution at 640×480 (307,200) pixels.
The FLIR T-Series cameras are best known for their advantages that make them truly stand out when compared to similar products, namely the unique rotating optical block that allows users to aim overhead, under equipment and other tough angles, as well as the Auto-Orientation that automatically keeps onscreen temperature measurement data upright for easier viewing.
The touchscreen tools have been simplified, so menus are easily accessible, colour pallets can easily be changed, while parameters settings is now a breeze.
Both the T620 and the T640 have a new capacitive touchscreen for navigation that resembles a smartphone touchscreen, while the keypad buttons on all the latest models have also been optimized in a way that allows users to activate the interface with gloves on.
Thanks to these characteristics, FLIR's T-Series top the list of best thermal imagers for professional thermographers across a wide range of industrial applications.
The free FLIR Tools Mobile app allows thermographers to import, analyse and share images and reports immediately and directly from the inspection site.
"In addition, the app can stream live video to nearby devices for safer monitoring. Wireless connectivity also extends to FLIR MeterLink® test instruments that can send readings directly to T-Series cameras via Bluetooth®, automatically embedding electrical load and other critical data into radiometric thermal images as they're captured," it says in the media release by FLIR.
For more information, visit www.FLIR.com.