Ford's assembly line at the Michigan plant in Wayne has rolled out the 5-millionth vehicle with a Ford EcoBoost engine, marking a significant production milestone for its fuel-efficient EcoBoost® engine technology.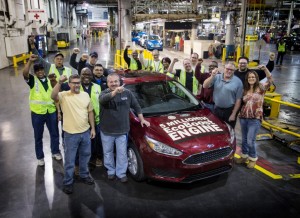 The company said that production of the 5-millionth EcoBoost-equipped vehicle – a Ford Focus fitted with 1.0-liter turbocharged engine – coincides with the first full year in which customers can choose EcoBoost-equipped engines on 100% of Ford's passenger vehicles sold in the United States.
The technology was launched in 2009 on Ford Taurus SHO, when Ford manufactured 14,439 EcoBoost engines. The following year – the first full year of EcoBoost production – the number rose to 62,704, and three years later, in October 2013, the 2-millionth EcoBoost engine rolled off the line at Louisville.
According to the press release by Ford, the 1.0-liter three-cylinder EcoBoost is a multiple award-winning engine, earning Engine Technology International's International Engine of the Year honours three years in a row. It has also earned a Ward's 10 Best Engines nod two years running.
Other members of Ford's global EcoBoost family include the 1.5-liter, 1.6-liter, 2.0-liter and 2.3-liter four-cylinder engines, and the powerful 2.7-liter and 3.5-liter V6 engines.
Earlier this month, Ford debuted the 2016 Ford Focus RS – a global all-wheel-drive performance car – at the 2015 Geneva Motor Show. Equipped with 2.3-liter EcoBoost engine technology, the car is projected to produce more than 315 horsepower from only four cylinders.
The company said that production of Focus RS with 2.3-liter EcoBoost is planned to commence later this year.