Universal Robots (UR) has unveiled the UR3 – the most flexible, lightweight tabletop robot in the world, developed to work alongside humans.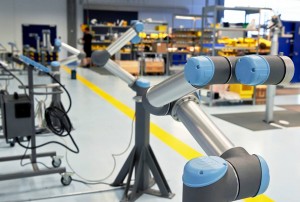 The company spent three years developing the robot, which has a payload of 3kg and weighs a mere 11kg and is a must-have addition for manufacturing companies that want to boost their production.
"We are thrilled to present the UR3 – a compact tabletop robot with the capabilities to function efficiently as the second member of a two-man team or as a standalone operator. We are confident that the UR3 will revolutionise the manufacturing industry, especially for products such as medical devices, circuit boards and electronic components that require speedy, precise and consistent movements between waypoints," said Enrico Krog Iversen, CEO, Universal Robots.
"We noted that businesses in the APAC region are determined to innovate their production lines but are looking for a nimble robot that has lower cost of ownership and quicker payback period. Due to its compact form and easy programming, the UR3 is the ideal solution that can meet their agile manufacturing needs," said Shermine Gotfredsen, General Manager, APAC, Universal Robots.
This robot is all about safety: it has 15 advanced, adjustable safety settings. For example, the UR3 can limit the force on impact if it encounters an obstruction; it can sense a force of 150 Newton, but can be programmed to cease all movements if it encounters a force as low as 50 Newton along its path of motion.
The UR3 is capable of working in confined workspaces where construction of large safety guarding is not feasible and can also operate in environments with toxic or hazardous materials.
"Universal Robots has a well-deserved reputation for producing reliable industrial robotic arms that can be easily programmed to work safely and cooperatively with humans. With the introduction of the UR3, Universal is expanding the range of applications for their unique technology, as well as the number and types of business that can immediately benefit from robotic assembly and manufacturing automation. By doing so, the company has also greatly increased the scope of their own addressable markets. Everyone benefits," said Dan Kara, Practice Director, Robotics, Automation and Intelligent Systems for ABI Research.
Universal Robots also announced that it will organise a UR3 launch showcase for a select group of APAC distributors and end users on 19 March, 2015, with the rest of the region soon to follow.
Some of the end users who will be present include, Amtek, LG Innotek and Nissan Motor Company.
Click here to see the UR3 in action.
For more information, please visit: http://www.universal-robots.com/en/distributors/