General Motor's head of international operations Stefan Jacoby has admitted that he was the one who proposed the decision to close down Holden's manufacturing operations in Australia, and made it clear that no amount of subsidy could have saved them.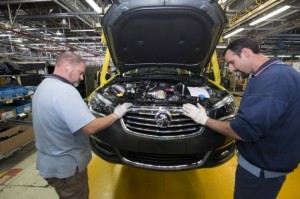 Mr Jacoby said it does not make sense to build cars in Australia even if the federal government raised import tariifs.
"Local production, even if would be a pure assembly (operation) doesn't make any sense," he said, quoted in a report on News.com.au.
"Our business is driven by scale of economics, of productivity, of an efficient supplier industry … optimised logistics … Australia is just too small in these scales."
"If you just see these rationales, (manufacturing in) Australia doesn't make sense when you put this in a global context."
Mr Jacoby said even if the government puts barriers in place to protect the local automotive industry, it would only lead to an uncompetitive business.
He also admitted that end of local manufacturing may lead to a decline in sales, but he hopes that Holden will bounce back.
Sales of Holden's flagship model the Commodore has declined by nine percent in 2013 from the previous year. The latest VFACTS data showed that the Commodore captured less than 28,000 buyers in 2013 despite an extensive mid-year upgrade.
"If you look at the poor numbers, Holden has lost half of its market share over the past 10 years.
"It's another evidence if you focus on local manufacturing you are not truly competitive. (Eventually) I think we will at least stabilise our market share if not grow our market share."
Mr Jacoby confirmed that the final decision was made at the highest levels of the company, in a meeting which involved CEO Dan Akerson and members of the board. He said the call was made after the Productivity Commission hearing and that it was driven purely by business rationale.
"After the Productivity Commission hearing we had all the elements together to make this decision. It was a very serious decision."
"We are business driven. We have our own agenda and we are not pushed by anybody from the Australian government to make that decision."
Meanwhile Coalition leader Christoper Pyne is calling on the Labor party to apologise for leading people to believe that incentives could have saved Holden.
"Today we've seen … the shredding of Jay Weatherill's credibility," Mr Pyne said on Monday.
Treasurer Joe Hockey also took to Twitter to bash the South Australian Premier and Bill Shorten.
"Bill Shorten and Jay Weatherill (have been) called out by GM executives for their foolish behaviour. Enough said."