Australian-owned GP Graders, a leading supplier of fresh produce grading machinery, was named the winner of the 2014 Australian Exporter of the year award.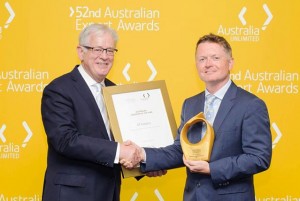 The announcement was made by Trade and Investment Minister Andrew Robb at the 52nd awards ceremony held on 27 November.
"Exporter of the year, GP Graders – from my home-state of Victoria – should be especially proud of the innovation and imagination they've demonstrated, in order to capture international attention for their machinery products. The businesses recognised by these awards make a huge contribution to our economy, and I congratulate the winners – indeed all the finalists – for their commitment, creativity and drive," said Mr Robb.
"This is a great honour and is testimony to the hard work the GP Graders team has put into product innovation and customer service. We have been at the forefront of grading machinery technology for a long time and we make continuous improvements to technology by listening to our clients' needs. This has built up goodwill with our many clients across the globe and we hope to continue our push for excellence in this field whilst contributing to the improvement of efficiencies in the agriculture industry," said Stuart Payne, Director of GP Graders.
GP Graders was established in 1963 by Geoff Payne. Mr Payne began a small manufacturing and grading packaging machinery business to cater to local apple and stone fruit orchards.
Today, under the guidance of Geoff's son Stuart, GP Graders is Australia's leading supplier of fresh produce grading machinery and exports to Turkey, Greece, the US and Chile.
According to the media release by the company, GP Graders machinery significantly reduces operating costs and achieves higher quality grading standards that satisfy domestic and export markets.
Despite the ongoing struggles for Australian manufacturers, GP Graders proves that with the right technology and commitment to excellence anything is possible.
For more information about the company, please go to www.gpgraders.com.au