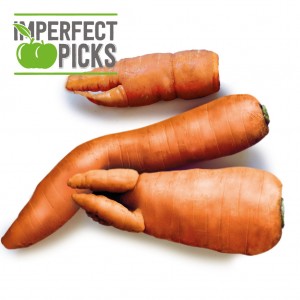 Australian supermarket chain Harris Farms has launched a campaign named 'Imperfect Picks' where they sell fruits and vegetables that are perfectly safe and healthy to eat, but with minor physical defects. 
Every day, thousands of tonnes of fresh fruits and vegetables fail to make it to the market because of minor imperfections on their outer appearance. In fact, According to Horticulture Australia, at least 277,700 tonnes of fruits and vegetables is wasted each year.
It is safe to say that Australia will be facing bigger problems with food wastage if this continues and Harris Farms aims to change the way Australians shop for fruits and vegetables in their new campaign.
Imperfect Picks draws its inspiration from a European campaign promoting "Inglorious Fruits" which has been very successful. Another goal for this campaign is to reduce food wastage, and to lessen the staggering number of 277,700 tonnes of fruits and vegetables wasted each year in Australia which in effect gives a bad impact to the environment, the farmers and it makes food more expensive than it should be.
Tristan Harris, co-CEO for Harris farms says "We are always looking for ways to deliver better value to our customers and ensure our growers are getting a fair deal. So we are going to do our bit to help."
These imperfect picks are available both online and in all Harris Farms branches and are sold for up to 50% less their normal value.
"This initiative of Harris Farms is a great boon for fruit growers who may have trouble finding markets for their fruit that looks different to the premium fruit grade that many supermarkets demand," says John Lawrenson, Chair of Apple and Pear Australia Ltd (APAL).